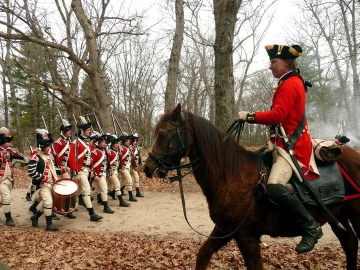 Greater Boston's Patriots Day season has already started. For information about reenactments and commemorations in Middlesex County, check out the
Battle Road site
.
And don't forget about
next week's Colonial Comics events
, which got some
ink from the Boston Globe yesterday
.
Looking back, the
"So Sudden an Alteration" conference
last Thursday through Saturday benefited from excellent wi-fi at the Massachusetts Historical Society, so there was a lot of tweeting during the sessions. That produced a parallel discussion that brought in resources and voices from outside the room, as well as the usual strictly limited paraphrases of what people said and snarky comments about it.
Two members of
the Junto
have collected the tweets marked #RevReborn2 in separate formats. Joe Adelman used the experimental tool at Hawksey.info to create this
archive of #RevReborn2 tweets
. The site also produced
graphs and an unintelligible map
.
Michael Hattem fed tweets and photos into the established Storify site: