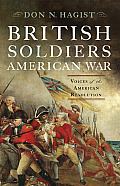 To delve into the
British army
career of
George Marsden
, I turned to Don Hagist, author of
British Soldiers, American War
and other books.
Don checked his thorough records and found that Marsden first arrived in New England in 1768 with the 59th Regiment of Foot in a company commanded by Capt. John Willson. They came to Boston, and local Whigs soon made Capt. Willson notorious for supposedly encouraging
slaves
to revolt.
As Don told me:
Marsden is on the April 1769 roll for the grenadier company, prepared in Boston. On the October 1770 roll for the company he shows up as being appointed serjeant, but in 1774 he's a private again.
Unfortunately, the regiment did a lousy job in filing its paperwork, so we don't know about anything the dates in between except that the regiment was in
Nova Scotia
from 1769 to 1774. (Marsden's descendants also understood him as coming through Nova Scotia with the British army, but as
an officer during the earlier French and Indian War
.)
The fact that Marsden (usually written "Marsdin" in the muster rolls) became a sergeant suggests that his officers saw him as intelligent and dependable. Furthermore, while enlisted men often bounced from private to corporal and back depending on the regiment's needs, a sergeant usually stayed a sergeant. So what's the significance of Marsden's demotion? Had he lost his superiors' confidence? Did he resent losing that rank? We don't know.
On 24 July 1774, the 59th Regiment prepared to sail from Nova Scotia back to Boston as part of Gen.
Thomas Gage
's build-up of troops. And Pvt. George Marsden was no longer with them.
Don tells me that British regiments often suffered a wave of desertions just before they made a big move. Soldiers might have built ties with locals that they were loath to break, or they might have realized that their officers' departure meant this was a good chance to make a run for it.
After July 1774 Marsden disappears from all records, as far as I can tell, until he enlisted in Col.
James Scamman
's Massachusetts regiment on 19 May 1775. That unit was made up of men from southern
Maine
and
New Hampshire
. Marsden's home was then listed as "Londonderry," which one later researcher interpreted to mean Londonderry in Ireland. However, that same document listed several other men from Londonderry as well, so it probably referred to Londonderry, New Hampshire. Evidently Marsden had found his way to that town.
Marsden became the Scamman regiment's adjutant, an administrative post, undoubtedly because of his experience as a sergeant in the British army. A month later came the Battle of
Bunker Hill
. Marsden's old regiment, the 59th, was fighting on the British side. Had Marsden been captured, he would almost surely have been recognized, tried as a deserter in arms with the enemy, and executed. Nevertheless, he pushed ahead to the front lines faster than his colonel.
Adj. Marsden testified against Col. Scamman in his court-martial the following month, and I can't imagine that the regimental meetings were smooth after that. At the end of the year, however, it was clear who prevailed. Scamman was left out of the
Continental Army
. In contrast, Marsden was commissioned as a Lieutenant in Col.
William Prescott
's regiment—i.e., the commander who had actually been in the redoubt on Breed's Hill was ready to fight alongside him. (Similarly, Ens.
Joshua Trafton
, who also got on Scamman's bad side, was offered a lieutenant's commission and eventually became a captain.)
George Marsden is thus like
Thomas Machin
,
Daniel Box
,
Andrew Brown
—deserters from the king's army who had been recognized for their skills but barred by the British class system from rising into the officer class. In the Continental Army, Marsden became an officer. In the new republic, he was considered a gentleman. Like Machin and Brown, Marsden or his family retroactively came up with a more genteel history for him in Britain, making him an officer of the king who resigned before the war and wiping out any embarrassment about his having deserted.
TOMORROW: Marsden's mysterious marriage.