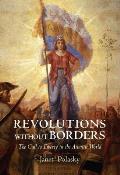 Earlier this month
H-Net published Bryan Rindfleisch's review
of
Revolutions without Borders: The Call to Liberty in the Atlantic World
by Janet L. Polasky, which looks at the multiple revolutions on both sides of the Atlantic in the late 1700s.
Polasky's scope includes not just the now-well-studied American, French, and Haitian Revolutions, but "the Genevan Revolution of 1782, the Dutch Patriot movement in 1787, the Belgian Revolution of 1787-89, the Wolfe Tone rebellion in Ireland (1798), and the Freetown Revolution of 1800."
Rindfleisch says, "Polasky provides a grand synthesis of the many and disparate struggles and revolts against monarchical authority and aristocratic privilege that erupted during the late eighteenth century, all of which were interconnected and related to one another." In this telling those connections are both literary and individual:
Out of this wave of revolutions emerged what Polasky calls "itinerant revolutionaries"—a large group of individuals, both men and women—who moved about on the Atlantic stage and gravitated toward the various upheavals of the late eighteenth century, thereby linking those revolutionary struggles together.

Take for example the case of Gerrit Paape, an earthenware painter of humble origins in Amsterdam, who—infected with the republican ideals of the American Revolution—reinvented himself as a poet, novelist, and revolutionary in the Dutch provinces in 1787. Although Prussian forces ultimately crushed this Dutch Patriot movement, Paape fled to the nearby Belgian provinces where he joined a second revolutionary movement that sought to undermine Austrian control of Belgian territories and peoples. And for a brief time in 1789, Paape and his fellow revolutionaries succeeded in emulating their American counterparts, creating the "United States of Belgium" and successfully repelling Austrian invasions.

But in 1790, the Belgian provinces were ultimately overrun by European empires and monarchies that desperately sought to stem the revolutionary tide. Yet again, Paape fled to another revolutionary scene, this time in France, where he fell in with like-minded radicals who created a French republic. Subsequently, in 1795, Paape returned home to the Dutch provinces, bringing up the rear of the French armies that liberated those territories from monarchical control, where Paape joined the "Batavian Revolution" that established a Dutch republic.
Telling such stories means likewise jumping among nations, languages, and archives. Polasky organized the first part of her book not chronologically but according to different forms of discourse, which have also become different historical sources: political pamphlets, revolutionaries' narratives and memoirs, newspapers and the rumors they spread along with hard news, novels presenting modern ideas, and family correspondence.
Polasky even writes, "This book could be read as an extended essay on sources," but
Tom Cutterham said at the Junto blog
:
Polasky's book is delightfully unencumbered by visible theoretical apparatus or historiographical call-backs. Most of the time, it's a series of linked stories that pull us, in vaguely chronological order, back and forth across the Atlantic and the Alps, with excursions south to Sierra Leone and east to Warsaw.
Rindfleisch notes that Polasky's narrative doesn't extend to Latin America in the early 1800s, as many studies of the "Atlantic Revolutions" do. But with transnational figures like Bolivar active there, it looks like someone could pick up the threads and go there.
In the end, Cutterham sees many stories of failure, as the most dedicated internationalists saw their romantic ideals overpowered by larger nation-states:
Ironically, the cause of most of these failures was their clash with successful revolutionary states, namely France. As much as American and French revolutionaries inspired imitators, they also soon came to fear them and attempt to control them—as Polasky points out, it was governments in these new states that brought the age of revolution to an end.
The ideals of worldwide republicanism fell before a new focus on nationalism—which brings us back to why so many scholars have studied these upheavals separately.