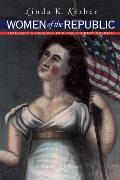 The
American Antiquarian Society
in
Worcester
has a bunch of interesting public lectures in the next few weeks.
Thursday, 22 October, 7:00 P.M.
Linda K. Kerber,
"Looking Back on Women of the Republic"
Each year the Annual Robert C. Baron Lecture brings a distinguished A.A.S. member who has written a seminal work of history to Antiquarian Hall to reflect on the book's impact on scholarship and society in the years since its first appearance. This year, Linda Kerber will discuss her 1980 book, a landmark study of American political thought and women's roles in the new nation.

Friday, 23 October, 5:30 P.M.
Richard H. Brown,
"Dispatches from the Front Lines: Maps and Views of the American Revolutionary Era"
In this illustrated lecture, Brown will examine rare and beautiful full-color maps and images created on the scenes of battles from the French and Indian War through the American Revolution. This lecture is based upon the recently published book Revolution: Mapping the Road to American Independence, 1755-1788 by him and Paul E. Cohen.
After
Brown spoke at the Boston Public Library last month
, Charles Bahne wrote me to say it was "a really great lecture, one of the best I've heard in a long time."
Thursday, 5 November, 7:00 P.M.
Robert J. Allison,
"The Birth of the Liberty Tree"
What were the long-term consequences of Boston's resistance to the Stamp Act? A broad mobilization of Bostonians demolished property and forced Crown officials to resign; the British government rescinded the law; and both sides felt they had averted a bigger crisis. But had they? We will commemorate the 250th anniversary of the Stamp Act with this lecture that examines the importance of the Stamp Act Crisis, both for those who lived through it and for future generations.
Friday, 20 November, 7:00 P.M.
Wendy Bellion,
"Representing Iconoclasm: Paint, Print, Performance"
This talk will explore nineteenth-century representations of colonial iconoclasm, such as the 1776 destruction of a statue of King George III in New York, and the re-performance of that action in civic pageants and parades, which often included ephemeral reproductions of the destroyed statue.
Bellion's lecture is also the keynote address for the
CHAViC fall conference
.
These talks are open to the public free of charge. All take place in Antiquarian Hall at 185 Salisbury Street. Parking is available on the streets nearby.