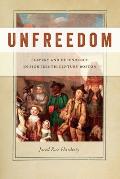 On Wednesday, 14 September,
Old North Church
will host a lecture by Jared Ross Hardesty, author of the new book
Unfreedom: Slavery and Dependence in Eighteenth-Century Boston
. Hardesty is an Assistant Professor of History at Western Washington University and blogs through the
African American Intellectual History Society website
.
Old North's announcement for this talk says:
Hardesty takes us inside the lives and worlds of enslaved Bostonians in the 18th century. In doing so, this lecture will reconstruct an 18th-century Atlantic world of unfreedom that stretched from Europe to Africa to America. Boston's slaves lived in this place that was characterized by many different forms of dependence and oppression, including Indian slavery, indentured servitude, and apprenticeship. In this hierarchical and inherently unfree world, enslaved Bostonians were more concerned with their everyday treatment and honor than with emancipation, as they pushed for autonomy, protected their families and communities, and demanded a place in society.

By reassessing the lives of Boston's slave population as part of a social order structured by ties of dependence, Hardesty not only demonstrates how African slaves were able to decode their new homeland and shape the terms of their enslavement, but also tells the story of how marginalized peoples engrained themselves in the very fabric of colonial American society.

The book is of particular interest to Old North as Hardesty describes the black congregation of Old North, both free and enslaved, in some detail. Hardesty also describes the role of slave owners, including Old North's chocolatier, Captain Newark Jackson, the namesake for Captain Jackson's Historic Chocolate Shop.
Prof. Hardesty is scheduled to speak at 6:30 P.M. in Old North. There will be a book signing and reception afterwards. The event is open to the public, but attendees are asked to
register and consider a donation
to the church.
Scholars and educators who attend Hardesty's talk on Wednesday are also invited to participate in a "small, intensive seminar" he'll lead on Thursday, 15 September, from 1:00 to 5:00 P.M. at the
Royall House & Slave Quarters
in
Medford
. The
"New Perspectives on Slavery in New England"
seminar is free, but
participants must register
.