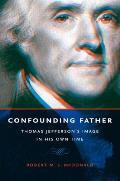 On Wednesday, 14 September, the Massachusetts Historical Society will host a talk by Robert M. S. McDonald based on his new book,
Confounding Father: Thomas Jefferson's Image in His Own Time
.
The event announcement says:
Of all the founding fathers, Thomas Jefferson stood out as the most controversial and confounding. Loved and hated, revered and reviled, during his lifetime he served as a lightning rod for dispute. Jefferson anxiously monitored the development of his image. As president he even clipped expressions of praise and scorn from newspapers, pasting them in his personal scrapbooks.

Historian Robert M. S. McDonald explores how Jefferson emerged as such a divisive figure. Bridging the gap between high politics and popular opinion, Confounding Father exposes how Jefferson's bifurcated image took shape both as a product of his own creation and in response to factors beyond his control.
McDonald is a
Professor of History at the U.S. Military Academy
and an
adjunct scholar of the Cato Institute
. He is the editor of
Thomas Jefferson's Military Academy: Founding West Point
,
Light and Liberty: Thomas Jefferson and the Power of Knowledge
,
Sons of the Father: George Washington and his Protégés
, and the forthcoming
Thomas Jefferson's Lives: Biographers and the Battle for History
. In 1999 he
identified a scrapbook
in the collection of the University of Virginia as made by Jefferson himself, one of the sources of this study.
This event is open to the public, but the M.H.S. asks people to
register in advance
. There will be a reception at 5:30 P.M., and Prof. McDonald is scheduled to speak at 6:00.