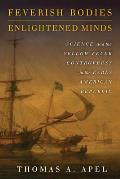 H-Net just ran
Jan Golinski's review
of
Feverish Bodies, Enlightened Minds: Science and the Yellow Fever Controversy in the Early American Republic
by Thomas A. Apel.
As Golinski explains, no one in 1790s Philadelphia understood the cause of the epidemic that emptied the new national capital, but that didn't stop two schools of thought from forming:
Broadly speaking, the "localist" side of the dispute traced the disease's origins to bad air in the affected area, due to the presence of corrupt or putrefying matter or to a change in what they called the "atmospheric constitution." Against them were ranged the "contagionists," who believed the disease had originated elsewhere, brought by migrants—such as the refugees who fled to Philadelphia from the revolution in Haiti—and subsequently communicated from one individual to another.

From a modern perspective, one might be inclined to dismiss the whole debate as founded on ignorance and mistaken assumptions. Nobody at the time had any knowledge of the virus that causes yellow fever, and nor did anyone recognize the role of the female Aedes aegypti mosquito in transmitting it from person to person. We now know that the disease is not directly infectious, though it is so through the medium of the insect vector; it is not caused by putrefying organic matter, but stagnant water does provide an environment in which the mosquito can easily breed. Both localists and contagionists could therefore muster facts to support their case, but neither side could decisively disprove the other's claims.
Like many
medical
controversies in the eighteenth century, therefore, we don't really want to take either side. It would be so much easier if any of the debating doctors of the period just washed his hands.
In his final chapter, Apel examines the political dimension of the controversy. He rightly declines to map the two sides directly onto the political divisions of the time. On the other hand, he suggests that the fierceness of the dispute did reflect the political factionalism of the 1790s. This was the era when the Enlightenment public sphere fissured into contending groups, and when conspiracy theories abounded on both sides of the Atlantic. Participants in the yellow fever debates frequently alleged their opponents were lying or conspiring against the public interest.

[Dr. Benjamin] Rush, in particular, exhibited a high degree of paranoia, likening himself to the early Christian martyrs persecuted under the Roman Empire. Simultaneously, he insisted that his opinions were the undeniable outcome of reason and truth. Apel reminds his readers that twentieth-century critics of the Enlightenment identified this combination of paranoia, conspiracy theories, and dogmatic insistence on one's own rationality as symptomatic of the last phase of the movement.
The epidemic occurred at the same time as the French Revolution, after all, and the harsh British reaction to its radicalness.