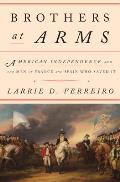 Over at the Journal of the American Revolution, there have been several articles of interest this year already. And not just because they arose out of conversations involving me.
First, the organization has given its
2016 Book of the Year Award
to
Brothers at Arms, American Independence and the Men of France and Spain Who Saved It
, by Larrie D. Ferreiro.
When I first looked at that book, I thought its marketing copy was too breathless—what student of the Revolutionary War doesn't know that America's ultimate victory depended on help from European governments, particularly France? But then I sampled the book, and I was impressed with the detail that Ferreiro brought to exploring that history.
Honorary mention goes to Edward G. Lengel's
First Entrepreneur: How George Washington Built His—and the Nation's—Prosperity
.
Last week the site featured one of its periodic round-robins, asking several of us contributors for short answers to some (hopefully) provocative questions. This series was:
As usual, there were a range of responses, especially from those of us who have a more narrow focus in our interests—with some lumping around particular personalities.
Finally, America's History, L.L.C., will
host its annual American Revolution Conference
at Colonial Williamsburg on 24-26 March 2017. I attended last year for the first time, and enjoyed myself. Although some fine academic scholars attend, this isn't an academic conference. In fact, it reminded me more of the fan conventions I've been to, except that in this case the corpus to study is real.