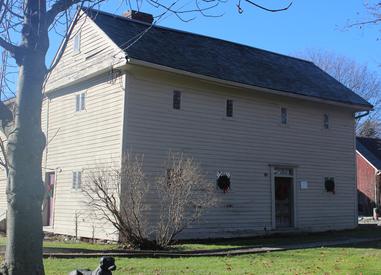 This year I seem to have focused on reactions to the Battle of
Lexington
and
Concord
instead of the actual fighting.
Here's another example, from the memoirs of
Joseph Plumb Martin
, who at age fourteen was living with his grandparents in Milford,
Connecticut
.
The previous September, Joseph had been scared by the dire rumors of the
"Powder Alarm,"
hearing a carriage wheel and thinking it was
British soldiers
coming to him:
I was ploughing in the field about half a mile from home, about the twenty-first day of April, when all of a sudden the bells fell to ringing, and three guns were repeatedly fired in succession down in the village; what the cause was we could not conjecture. I had some fearful forebodings that something more than the sound of a carriage wheel was in the wind. The regulars are coming in good earnest, thought I. My grandsire sighed, he "smelt the rat." He immediately turned out the team and repaired homeward.

I sat off to see what the cause of the commotion was. I found most of the male kind of the people together; soldiers for Boston were in requisition. A dollar deposited upon the drum head was taken up by some one as soon as placed there, and the holder's name taken, and he enrolled, with orders to equip himself as quick as possible. My spirits began to revive at the sight of the money offered; the seeds of courage began to sprout; for, contrary to my knowledge, there was a scattering of them sowed, but they had not as yet germinated; I felt a strong inclination, when I found I had them, to cultivate them. O, thought I, if I were but old enough to put myself forward, I would be the possessor of one dollar, the dangers of war to the contrary notwithstanding; but I durst not put myself up for a soldier for fear of being refused, and that would have quite upset all the courage I had drawn forth.

The men that had engaged "to go to war" went as far as the next town, where they received orders to return, as there was a sufficiency of men already engaged, so that I should have had but a short campaign had I have gone.
(The photo above shows the
Eells-Stow House
, a Milford house that Joseph P. Martin knew since it was built around 1700.)