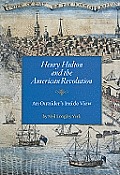 I've focused on
Charles Paxton
as the chief target of Boston's
Pope Night
processions in 1767, but two other new Commissioners of His Majesty's
Customs
arrived in Boston on that same Fifth of November.
One was
Henry Hulton
, born in 1732 in Hampshire, England. He became one of the British Empire's civil servants, eventually winning the post in Boston. Which turned out to be a lot more trouble than he anticipated.
Hulton wrote back to his family on his arrival, and his sister
Ann Hulton
passed on his news in a 17 Dec 1767 letter:
He says they happen'd unluckily to arrive on the most riotous day in the year, the 5th. Novr believes the Mob carried twenty Devils, Popes, & Pretenders, thro the Streets, with Labels on their breasts, Liberty & Property & no Commissioners, he laughed at 'em with the rest.
Later Henry's wife and
children
joined him, as did Ann. She observed:
The Mobs here are very different from those in O[ld] England where a few lights put into the Windows will pacify, or the interposition of a Magistrate restrain them, but here they act from principle & under Countenance.
The Hultons moved into a house on Walnut Street in
Brookline
. According to Ann, a Scottish man named Logan "purchased this House & Land for my Bro[the]r in his own name, at the time nobody wou'd Lett or Sell to a Commissioner." That estate provided Hulton with a rural retreat from the political turmoil in Boston. But on at least one occasion the mob visited him out there, and he had to flee to
Castle William
.
Ann Hulton's reports home were published in 1927 as
Letters of a Loyalist Lady
. Henry Hulton's political writings remained unpublished until 2010 when the Colonial Society of Massachusetts issued
Henry Hulton and the American Revolution: An Outsider's Inside View
, edited by Neil Longley York. It contains Hulton's letters; his first-hand history of the coming of the Revolution, owned by Princeton University; and a
collection of essays and poems
, held at the Clements Library. The complete text is now
available online
.