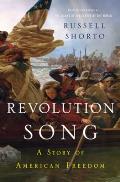 Back in 2009, Ray Raphael contributed a
"guest blogger" posting
here about his book
Founders
, which traces the history of the Revolution through seven individuals.
Ray wrote: "One of the characters is a given:
George Washington
. There is absolutely no way we can tell the larger story of the war and the nation's founding without him. We know this. But who else?" That question prompted a
couple of days
of discussion
of candidates.
Now journalist and historian Russell Shorto has taken up a similar challenge with his book
Revolution Song: A Story of American Freedom
. It retells the Revolution through six figures:
Coghlan brings some scandalous glamour to the project since she and
Aaron Burr
were reportedly an item early in the war and she later became a courtesan in London. In
Revolutionary Ladies
, Philip Young presented evidence that Coghlan died years before her
Memoir
was published, suggesting that at least some of its tales were fraudulent. Shorto argues instead that Coghlan faked her death and fled to Paris. So that's interesting right there.
Shorto will present
Revolution Song
at the Massachusetts Historical Society on Thursday, 30 November. The event will start with a reception at 5:30 P.M., and Shorto will speak and sign books starting at 6:00.
Registration
costs $10.