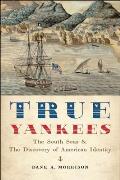 On Tuesday, 22 May, the American Independence Museum in Exeter,
New Hampshire
, will host a
lunchtime talk
by Dane A. Morrison on
"Exporting the Revolution: American Revolutionaries in the Indies Trade."
Morrison, a professor of history at Salem State University, is the author of
True Yankees: The South Seas and the Discovery of American Identity
. Here's what he'll speak about:
One of the notable consequences of the American Revolution was the opening of American trade with the East, commencing with the voyage of the Empress of China, departing New York's East River virtually at the moment when Congress was ratifying the Treaty of Paris in February 1784. Independence had freed Yankee merchants from Britain's mercantilist regulations, confining their vessels to the waters of the Atlantic and Caribbean, and triggered the country's entrance onto a global stage.

This talk will examine the emergence of Americans onto a global stage, raising such questions as:


How did early American "citizens of the world" recollect the Revolution?
How did they negotiate the complications of culture in their travels around the world?
And, how did they hope to defend the legitimacy of the new nation and champion the republican principles that they hoped would define an emergent national identity?
This "Lunch and Learn" session will take place from 12:00 noon to 1:00 P.M. at the Folsom Tavern, 164 Water Street in Exeter. Parking is available in the nearby museum's parking lot on Spring Street and along Water Street. People are welcome to bring lunch.
This event is free and open to the public. However, the tavern is is a historic building, and the second-floor lecture space is not handicap-accessible.