Three days ago, we left Col. William Dalrymple and his 14th Regiment of Foot on their first night in the unfriendly town of Boston. They were locked out of the Manufactory building but finally found refuge in Faneuil Hall.

The next day, 2 October, was a Sunday, and Bostonians took the Sabbath off from political protests. Dalrymple was busy complaining to Gov. Francis Bernard about his soldiers' inadequate and cramped accommodations. Bernard replied:

When I went to town this morning to attend the Service at the King's Chappel I learned that you had been put to Difficulties in providing a temporary Shelter for your men and I, of my own accord, inclosed in a Letter to you an order to the doorkeeper of the Courthouse [i.e., the Town House, now the Old State House] to open that building and all the spare rooms in it for the accommodation of the Men untill they could be encamped and quartered.
The 14th Regiment thus took over the seats of both the town and provincial governments.
Col. Dalrymple had promised the selectmen "upon his honor to quit said [Fanueil] Hall" on Monday, 3 October. But at the end of that day, his men were still inside.
On the 4th,
John Rowe
came to his fellow
selectmen
and told them
that Collo. Delrimple sent his Compliments to them, & asked the favor of having the further use of Faneuil Hall till Wednesday next, when he would withdraw his Troops from thence—

to which request the Selectmen consented —
So 250 years ago today, nothing changed. What to talk about then? Hmmm. How about a book-signing?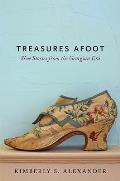 On Saturday, 6 October, the
William Hickling Prescott House
in Boston will host Kimberly S. Alexander, author of
Treasures Afoot: Shoe Stories from the Georgian Era
. The publisher's description:
Presenting a series of stories that reveal how shoes were made, sold, and worn during the long eighteenth century, Alexander traces the fortunes and misfortunes of wearers as their footwear was altered to accommodate poor health, flagging finances, and changing styles. She explores the lives and letters of clever apprentices, skilled cordwainers, wealthy merchants, and elegant brides, taking readers on a colorful journey from bustling London streets into ship cargo holds, New England shops, and, ultimately, to the homes of eager consumers.
Alexander teaches museum studies, material culture, and American and
New Hampshire
history at the University of New Hampshire.
The signing will take place from noon to 2:00 P.M. at the Prescott House, 55 Beacon Street in Boston. One could visit that event and attend the
"Boston Occupied" reenactment
on the Common and downtown Boston in one fun afternoon.