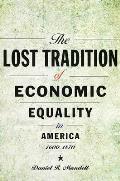 On Wednesday, 30 September, the American Antiquarian Society will host an online talk by Daniel R. Mandell on
"Finding the Lost Tradition of Economic Equality in America."
The
event announcement
:
Although Americans today are concerned about the ever-increasing levels of wealth and income inequality, many continue to believe that their country was founded on a person's right to acquire and control property. But in his latest book, The Lost Tradition of Economic Equality in America, 1600–1880, Daniel Mandell argues that the United States was originally deeply influenced by the belief that maintaining a "rough" equality of wealth was essential for a successful republican government. That belief continued to influence American culture and politics even as wage labor became increasingly common and the chasm widened between rich and poor.
Dan Mandell was a research fellow at the A.A.S., and his talk will highlight some of the library's holdings significant to this research.
Mandell is a professor of history at Truman State University in Missouri. Much of his work has examined the Native communities of New England, including the books
King Philip's War: Colonial Expansion, Native Resistance, and the End of Indian Sovereignty
;
Behind the Frontier: Indians in Eighteenth-Century Eastern Massachusetts
; and
Tribe, Race, History: Native Americans in Southern New England, 1780-1880
.
Here's a
Conversation essay by Mandell
sharing ideas from his new book. In this
Rogue Historian podcast episode
, he discusses the history with Keith Harris.
The A.A.S.'s live event is scheduled to start at 8:00 P.M. Eastern time.
Registration is free
.