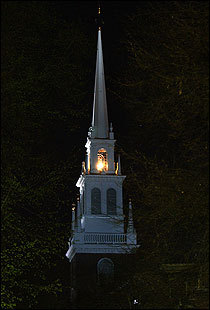 At a members' event at Old South Meeting-House last month, one of Susan Wilson's trivia questions was something like: "In 'One if by land and two if by sea,' what does 'sea' refer to?" The assembled body decided that the answer is:

the Charles River estuary,
also known as the Back Bay
before it was filled in
But that's much harder to rhyme than "sea," even for a writer of verse as skilled as
Henry W. Longfellow
.
Longfellow's poem depicts
Paul Revere
going on to say, "And I on the opposite shore will be." That's not historically accurate. Revere arranged to
send
the signal about Gen.
Thomas Gage
's plan across the water to Charlestown. He didn't need to watch for the lights in the steeple of
Old North Church
since he already knew the information they transmitted.
In
Revere's own words
:
The Sunday before, by desire of Dr. [Joseph] Warren, I had been to Lexington, to Mess. [John] Hancock and [Samuel] Adams, who were at the Rev. Mr. [Jonas] Clark's [the minister at Lexington]. I returned at Night thro Charlestown; there I agreed with a Col. [William] Conant, and some other Gentlemen, that if the British went out by Water, we would shew two Lanthorns in the North Church Steeple; and if by Land, one, as a Signal; for we were aprehensive it would be dificult to Cross the Charles River, or git over Boston neck.
As a backup plan, Revere later crossed the river to Charlestown himself. He wrote:
two friends rowed me across Charles River, a little to the eastward where the Somerset Man of War lay. It was then young flood, the Ship was winding, and the moon was Rising. They landed me on Charlestown side. When I got into Town, I met Col. Conant, and several others; they said they had seen our signals. I told them what was Acting, and went to git me a Horse; I got a Horse of Deacon [John] Larkin.
It's significant that there was no horse waiting at the shore or wharf for Revere. Instead, the Charlestown Patriots had sent off a different rider as soon as they saw the signal from Boston. Spreading the word that way was the whole point of the warning: it wasn't much good to alert Charlestown that the army was about to land in Cambridge and march west.
According to an undated memorandum later written by Richard Devens, a leading Charlestown Patriot, after seeing the lantern signal:
I then sent off an express to inform Messrs. [Elbridge] Gerry, &c., and Messrs. Hancock and A.,...that the enemy were certainly coming out.
Gerry and his colleagues from the Provincial Congress's Committee of Safety and Supplies were at an inn in Cambridge. (D. H. Fischer's
Paul Revere's Ride
offers a different wording of this memorandum, which doesn't match the cited source:
Richard Frothingham
's 1872
History of the Siege of Boston
. So I'm quoting Frothingham.)
So who was that Charlestown express rider? And what happened to him? (The rider was almost certainly a "him," the
legend of Sybil Ludington
notwithstanding.) That's another mystery about the Battle of Lexington and Concord.
We have a partial answer for the second question, but little for the first. That rider was probably stopped by British officers along the way. Revere encountered the same obstacle:
While the Horse was preparing, Richard Devens, Esq. who was one of the Committee of Safty, came to me, and told me, that he came down the Road from Lexington, after Sundown, that evening; that He met ten British Officers, all well mounted, and armed, going up the Road.

I set off upon a very good Horse; it was then about 11 o'Clock, and very pleasant. After I had passed Charlestown Neck, and got nearly opposite where Mark [a man executed for a murder in 1755] was hung in chains, I saw two men on Horse back, under a Tree. When I got near them, I discovered they were British officers. One tryed to git a head of Me, and the other to take me. I turned my Horse very quick, and Galloped towards Charlestown neck, and then pushed for the Medford Road.
By changing his route and taking a more northern road west, Revere skirted the patrols and made it through to Lexington. Here's a
map of his ride
, showing where he first spotted British officers and turned back.
The Charlestown rider probably hadn't been so quick. Those same officers probably "pulled him over." And what did they do with him then? When other officers captured Revere later in the night, they held him at gunpoint in a field (along with three riders from Lexington and a disabled peddler named Allen), took away Deacon Larkin's horse, and finally let him go so they could move more quickly. The Charlestown rider probably also had to walk back home, having accomplished nothing, and no one seems to have recorded his name.