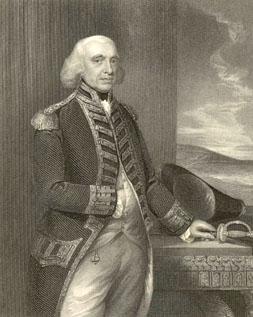 On Friday I promised a second legend about Gen. George Washington and the 101st Psalm, separate from the one credited to Andrew Leavitt of New Hampshire.

The Rev. Dr. Joseph F. Tuttle was president of Wabash College, and author of many historical articles. An 1871 issue of Our Monthly: A Magazine of Religion and Literature included his article "Morristown and Washington," which said:
And here I may add a tradition received from two independent sources, and which, I suspect, has no foundation in fact. Still, I have met some aged people who believed it, and therefore I will repeat it and let it go for what it is worth.

The tradition is, that Lord Howe [Adm. Richard Howe, shown here courtesy of NNDB.com], the British commander at New York, well knowing what a sorrowful time Washington was having, sent him a copy of Watts' version of the one hundred and twentieth Psalm, containing these three stanzas:

Thou God of Love, thou ever blest,
Pity my suffering state;
When wilt thou set my soul at rest
From lips that love deceit?

Hard lot of mine! my days are cast
Among the sons of strife,
Whose never-ceasing brawlings waste
My golden hours of life!

О might I change my place,
How would I choose to dwell
In some wide lonesome wilderness.
And leave these gates of hell!
[I suspect the real joke here alluded to Howe's wish to pass "Hell's Gate" on the East River and punch through the American countryside. But back to Tuttle:]
The same tradition asserts that Washington returned the compliment, by sending to his antagonist, Watts' version of the one hundred and first Psalm, entitled the "Magistrate's Psalm," in which occur the following significant stanzas:

In vain shall sinners strive to rise,
By flattering and malicious lies;
And while the innocent I guard,
The bold offender shan't be spared.

The impious crew, that factious band,
Shall hide their heads or quit the land;
And all who break the public rest,
Where I have power shall be suppressed.

Some years ago, this anecdote was incorporated in a manuscript by the author of this article; but while the unpublished article as a whole, was complimented as much as it deserved by the historian [George] Bancroft, who had solicited it for perusal, that distinguished gentleman wrote in pencil at the end of this anecdote these words, "altogether improbable and not worth repeating!"
Tuttle had come to the same conclusion as Bancroft by the time he wrote this article. His statement that he suspected the anecdote "has no foundation in fact" could not be clearer. And indeed there is no documentation or contemporary report to support this supposed exchange between two opposing military commanders.
Yet some later writers simply chose to disregard Bancroft and Tuttle's conclusions, and their total ignorance of Tuttle's sources, and reprinted the story anyway. The Rev. Rufus S. Green had clearly seen Tuttle's comments about the anecdote before he included it in his
History of Morris County, New Jersey
(1882), but decided to say merely, "Rev. Dr. J. F. Tuttle states that he received the above tradition from two entirely distinct sources."
That apparently prompted the Rev. Andrew M. Sherman to use the same story in his article "Washington and His Army in Morris County, New Jersey, Winter of 1776-77," in the 1911 volume of
The Journal of the American Irish Historical Society
. Sherman prefaced the story by writing, "If tradition from two distinct sources may be relied upon, and in this particular instance there seems to be ample ground for reliance,..." Of course, he did not describe what that "ample ground" was.
All three authors who put this story into print, despite their own doubts or others', were ministers. As with the story of the 101st Psalm in
Cambridge
, told by the Rev.
Daniel Waldo
and the notably pious Leavitt, these men seem to have valued the image of Washington sharing Christian Scripture. Tuttle, Green, and Sherman clearly let their fondness for that image steer their scholarly judgment. Similarly, Parson
Mason Weems
composed the legend of Washington
praying in the snow at Valley Forge
, and a
series of rabbis
appear to have spread the legend that he participated in a Hanukkah service there.