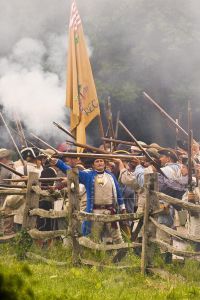 On the weekend of 7-8 August, Old Sturbridge Village is hosting its annual "Redcoats & Rebels" gathering, the "largest military re-enactment in New England." The museum's press release says:

More than 40 units will conduct mock battles with lots of musket, cannon and artillery fire, demonstrate marching and drilling, and entertain visitors with fife and drum music. British units and their Irish, Welsh, and Scotch allies will camp the OSV Common, and units portraying Colonial Minutemen and their French allies will be camped throughout the Village countryside.
This
press release
includes an impressive list of participating units.