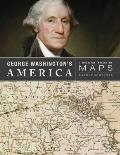 On Tuesday, 6 December, the Boston Public Library will host a talk by Barnet Schecter about his book
George Washington's America: A Biography Through His Maps
.
This book is based on a collection of maps that
Washington
owned which were eventually bound in a single volume, now at
Yale University
. It traces the first President's life through those maps, some of which he drew as a surveyor and landowner, most of which he collected as a land speculator, military leader, and political official.
The book is oversized and heavily illustrated, letting readers see the maps as Washington did. They show the territories he worried about taking or protecting, and the early growth of the U.S. of A.
Schechter is also author of
The Battle for New York: The City at the Heart of the American Revolution
.
The library is presenting this talk in partnership with the Norman B. Leventhal Map Center and the Boston Map Society. It will begin at 6:00 P.M. in the Abbey Room, in the older part of the main library.