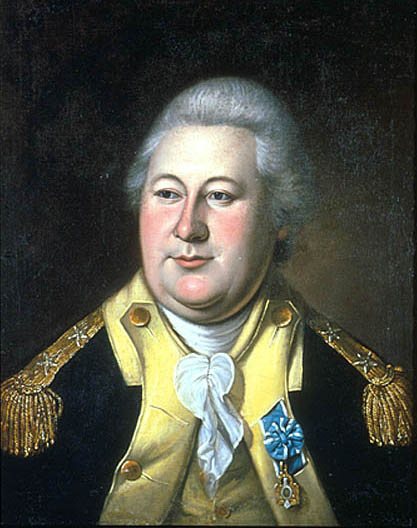 The same 23 Oct 1775 conference at Gen.
George Washington
's headquarters that
decided to ease
Col.
Richard Gridley
out of the command of the
Continental Army
's
artillery
regiment also determined that
Henry Knox
should be appointed Assistant Engineer with the rank of Lieutenant Colonel.
Until then, Knox had not been part of the Continental Army at all—he was a gentleman volunteer. In the prewar Massachusetts
militia
, his highest rank had been lieutenant in Boston's grenadier company. He was only twenty-five, and the regiment included older men with more militia experience and higher army rank, so this appointment was a real sign of confidence in Knox.
And he turned it down.
Knox didn't think the rank of lieutenant colonel was high enough, as he explained to
John Adams
in a letter from
Cambridge
dated 26 October:
A number of the Generals desir'd me to act as engineer and said that when the delegates from the Continental Congress came here the matter should be settl'd—myself as cheif engineer with the rank and pay of Colonel and a Lt. Col. [Rufus] Putnam as second also with the rank of Col.—but the Gentlemen (two of them, Dctr. [Benjamin] Franklin was of another opinion) delegates did not see proper to engage for any other rank than that of Lt. Col. and I believe have recommended us in that order to your Congress.

I have the most sacred regard for the liberties of my country and am fully determined to act as far as in my power in opposition to the present tyranny attempted to be imposed upon it, but as all honor is comparative I humbly hope that I have as good pretensions to the rank of Col. as many now in the service, the declining to confer which by the delegates not a little supriz'd me. If your respectable body should not incline to give the rank and pay of Col. I must beg to decline it, not but I will do every service in power as a Volunteer.

It is said and universally beleived that the officers and soldiers of the train of artillery will refuse to serve under their present Commander, the reasons of which you no doubt have heard. If it should be so and a new Col. Appointed I should be glad to suceed to that post where I flatter myself I should be of some little service to the Cause. The other field officers of the regiment wish it and I have great reasons to beleive the Generals too. This would be much more agreable to me than the first and would not hinder me from being useful in that department.
Continental Congress delegates
Thomas Lynch
and
Benjamin Harrison
had apparently balked at making Knox a full colonel, and the conference had thus recommended appointing him as lieutenant colonel, giving the same rank to Rufus Putnam (who was already in the army).
So as of late October, Gen. Washington had an artillery commander who needed to be replaced, superiors who disagreed with the replacement his generals had suggested, a replacement who had turned down the job, and a shortage of heavy guns, mortars, and
gunpowder
. Aside from that, the
siege
was going fine.
Come hear me talk about how
Washington managed to reengineer the artillery regiment
at
Longfellow House–Washington's Headquarters National Historic Site
this Thursday at 6:00 P.M.