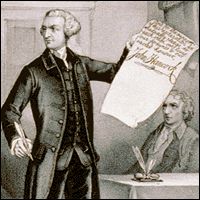 Yet another complication in
interpreting the phrase "King Hancock" in 1775
is
John Hancock
's later political career. In 1780 he became governor of Massachusetts. That prominence affected how people spoke about him, and quite possibly about how people remembered others speaking about him.
As careful as he was to maintain his political popularity, Hancock developed rivals and enemies. In the new republic, one easy way to attack a rich politician was to tag him as having monarchical ambitions.
Samuel Breck
, born in Boston in 1771, recorded a sarcastic reference to Hancock in a political verse:
Madam Hancock dreamt a dream;
She dreamt she wanted something;
She dreamt she wanted a Yankee King,
To crown him with a pumpkin.
According to Breck, the line about "a Yankee King" was a commentary on Hancock's political ambitions in the early federal period, when he enjoyed being the most important officeholder in New England and supposedly took as little notice as possible of the national government.
Within a couple of decades after Breck's memoirs were posthumously published in Philadelphia in 1863, authors were saying the
British
had sung those lines in Boston at the start of the Revolutionary War. But back in early 1775 there was no "Madam Hancock" wishing her husband to be a king. (Or, rather, "Madam Hancock" was John's aunt Lydia.) Hancock didn't marry
Dolly Quincy
until after the war began. Breck had actually written that
British soldiers
had sung
other
words to "Yankee Doodle," which he didn't record.
I suspect that later memories of Hancock as an American politician also colored
John Adams
's 1815 recollection about the
Continental Congress
's choice of commander-in-chief:
Who, then, should be General? On this question, the members were greatly divided. A number were for Mr. Hancock, then President of Congress, and extremely popular throughout the United Colonies, and called "King Hancock" all over Europe.
In fact, in June 1775 Hancock wasn't popular "throughout the United Colonies"; he was well known in New England, and folks elsewhere might have heard about Gen.
Thomas Gage
's proclamation offering amnesty to any rebel but him and
Samuel Adams
. But Hancock had become president of the Congress only on 24 May and had hardly enough time to grow "extremely popular."
Adams carefully avoided saying any Americans referred to the man they supposedly admired as "King Hancock," but he did claim that people "all over Europe" used that phrase. Most likely, however, few Europeans had ever heard of John Hancock before the
Declaration of Independence
. When he visited England as a young businessman, Hancock was heartily annoyed at how little respect he got; he was used to being the biggest frog in Boston's Frog Pond.
No evidence besides Adams's letter forty years after the fact suggests that any Congress delegates wanted to appoint Hancock commander-in-chief. As with other details of Adams's recollection, what he wrote about "King Hancock" makes me doubt the reliability of his storytelling.
COMING UP: A myth about another king.