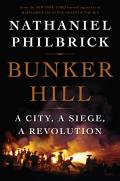 The last two postings have shared some verses inspired by the Battle of
Bunker Hill
and published in 1775 by
Ezekiel
and
Sarah Russell
,
printers
of (at that time)
Salem
. Now it's your turn.
The publisher of Nat Philbrick's book
Bunker Hill: A City, a Siege, a Revolution
has offered to send a free copy of the new paperback edition to a
Boston 1775
reader. It's an energetic retelling of the first campaign of the Revolutionary War, and if you've already got a copy it can make a fine introduction to the subject for someone else.
In thinking about how to give that book away, I got inspired by the Russells and decided to offer this challenge:
Post up to fourteen lines of original rhymed, metrical verse on the subject of the Battle of Bunker Hill as a comment to this blog posting. Limericks would be especially welcome. Sonnets would be especially impressive.

Verses based on postings from the preceding several days would show you've been reading, but the lines could be about any aspect of the Battle of Bunker Hill: the whole fight, small incidents, personalities, historiography.

The entry deadline will be the end of 1 July 2014.
On 4 July, the
Boston 1775
staff will choose the most moving or entertaining entry and award that poet his or her own copy of Philbrick's
Bunker Hill
, to be sent direct from the publisher.