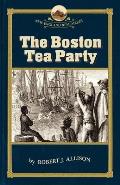 On Wednesday, 5 April, Robert J. Allison will speak about
"Boston and the American Revolution"
at the Boston Public Library as part of its
Local & Family History Series
.
This talk will explore such questions as "Why did the Revolution begin in Boston?" and "Why were Bostonians more rebellious than other British subjects in North America?"
Though perhaps, given what
Rhode Islanders
got away with in the years before 1775, an equally important question might be "Why did the British royal government push back harder against the political resistance in Boston?"
Bob Allison is chairman of the
history department of Suffolk University
, where he also created a popular
online course about Boston history
. His many books include
The Boston Massacre, A Short History of Boston
, and
The American Revolution: A Concise History
. Bob is an elected Fellow of the
Massachusetts Historical Society
and leader of the
Revolution 250
coalition.
This talk is scheduled to start at 6:00 P.M. in the Abbey Room of the big library building in Copley Square. It is free and open to the public.