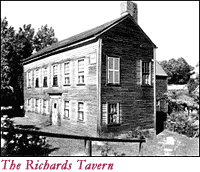 Samuel Haws
of
Wrentham
, Massachusetts, was one of the
militiamen
called out on 19 Apr 1775 who left a journal of his experiences.
Haws's journal would be consulted even more if he'd seen actual fighting that day. But Wrentham is on the
Rhode Island
border—too far for its militia company to hear of the
regulars
' march, to assemble, and to hike all the way to the battle road. Instead, Haws and his comrades saw a lot of taverns and eventually made their own action.
Here's an extract from Haws's diary as it appeared in its second publication, in the
New England Historical and Genealogical Register
for 1976. The annotations are by editor Richard Brigham Johnson and me:
About one a clock the minute men were alarmed and met at Landlord [David] Mann's.

We marched from there the sun about half an our high towards Roxbury for we heard that the regulars had gone out and had killed six men and had wounded Some more that was at Lexinton then the kings troops proceded to concord and there they were Defeated and Drove Back fiting as they went. They got to charlstown hill that night.

We marched to headens [Jonathan Hidden's] at Walpole and their got a little refreshment and from their we marched to Doctor [Samuel] cheneys [still in Walpole] and their we got some victuals and Drink and from thence we marched to Landlord ellises at Dedham and their captain parson [Samuel Payson?] and company [from Stoughton?] joined us and then we marched to [Benjamin] Gays and their captain [John] Boyd and company [from Dedham] joined us and we marched to Landlord [Daniel] Whitings [still in Dedham]

we taried their about one hour and then we marched to [Nathaniel] richardes [in west Roxbury, shown above] and Searched the house and found Ebenezer aldis and one pery who we supposed to Be torys…
The Wrentham militiamen no doubt recognized Ebenezer Aldis as one of their neighbors. In fact, he even was a cousin of sorts to Samuel Haws. (I can't identify "Pery"; Aldis's wife was a Penniman, so it's conceivable that man was one of her relatives and Haws wrote the name inaccurately.)
Haws's report might dovetail with a tradition that came down in the family of Nathaniel Richards and was eventually published in Abner Morse's
A Genealogical Register of the Descendants of Several Ancient Puritans
, vol. 3. That story focused on the landlord's new son-in-law (and cousin) Solomon Richards:
On the morning of the battle at Lexington, he was met, on his way to Boston, with the report that the British were on their march to Concord; and as he was turning his course for Dover, to rally men to the scene of conflict, up rode a man direct from Boston, contradicting the report.

Capt. R. instantly marked him for a tory, took him prisoner, bound him upon his own horse, and escorted him to the Peacock tavern at Jamaica Plain, and detained him until the truth could be known. In the meantime a body of soldiers arrived, and demanded the tory, that they might hang him during their halt.
Morse believed that the Richards family owned the Peacock Tavern, but he was mistaken—its landlord was Lemuel Child. The Peacock Tavern was at the corner of Allandale and Centre; Nathaniel Richards's tavern was further out along Centre where the West Roxbury post office now stands. The Richards family understood that Solomon Richards took his suspicious prisoner to his father-in-law's tavern, and it looks like Morse inserted the Peacock Tavern name by mistake.
TOMORROW: Did the Wrentham company hang Ebenezer Aldis?