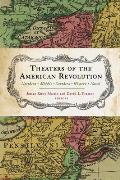 The American Revolution Round Table of the Hudson and Mohawk Valleys is hosting a free symposium in Schenectady,
New York
, on Veteran's Day, 11 November.
The symposium is on the topic of
"The Military Theaters of the American Revolution"
and will feature the editors and most of the contributors of the
recent book on that topic
.
There are presentations scheduled from 8:30 to 4:15, with a break for lunch. The speakers and their topics are:
David L. Preston, Professor of History, the Citadel, opening remarks.
James Kirby Martin, Ewing Visiting Professor, U.S.M.A., West Point, on "The Northern Theater."
Mark Edward Lender, Emeritus Professor of History, Kean University, on "The Western Theater."
Charles Neimeyer, Director and Chief of U.S. Marine Corps History at Marine Corps University, Quantico, on "The War at Sea."
Jim Piecuch, Professor of History, Kennesaw State University, on "The Southern Theater."
Lender and Martin together on "The Middle Theater."
All presenters in a discussion about "Which theater was most crucial to the outcome of the American Revolution?"
The event will take place at the Schenectady County Community College, located at 78 Washington Avenue. Specifically, participants will gather in the lecture hall of the Stockade Building.
Space is limited, so attendees must register in advance by sending an email to
arrthudsonmohawkvalleys@gmail.com
or by phoning 518-774-5669. Visit the
website of the Fort Plain Museum
for further details. The event is free, and attendees must provide their own lunch.
The symposium is co-sponsored by Siena College's McCormick School of the American Revolution, S.U.N.Y. Schenectady County Community College's Community Archaeology Program, the PastQuest Research Group, Westholme Publishing, and Alpin Haus. The Hudson and Mohawk Valley Round Table is supported by the Fort Plain Museum, the Friends of the Saratoga Battlefield, the Mohawk Country Association, the Pundits Military Association, the Saratoga National Historical Park, the Washington County Historical Society, and the Recreated 34th Regiment of Foot.