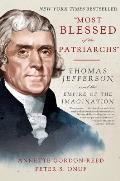 On Tuesday, 6 February, the American Academy of Arts and Sciences, founded in 1780 by
John Adams
, the Rev.
Samuel Cooper
, and
James Bowdoin
, will host a discussion titled
"Jefferson, Race, and Democracy."
The speakers will be Annette Gordon-Reed, the Charles Warren Professor of American Legal History at Harvard Law School and a Professor of History at Harvard University; and Peter S. Onuf, the Thomas Jefferson Memorial Foundation Professor at the University of Virginia.
Gordon-Reed and Onuf are coauthors of
Most Blessed of the Patriarchs: Thomas Jefferson and the Empire of the Imagination
. Gordon-Reed won a Pulitzer Prize and a National Book Award for
The Hemingses of Monticello
. Onuf is the author of
Jefferson's Empire
,
The Mind of Thomas Jefferson
,
Across the Continent: Jefferson, Lewis and Clark, and the Making of America
, and other books on the early republic.
This event will start with a reception at 5:00 P.M., and the discussion is scheduled for 6:00. It will take place at the A.A.A.S.'s headquarters at 136 Irving Street in Cambridge. The organization asks people to
register to attend
.