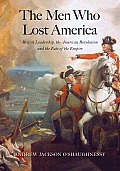 Prof. Andrew Jackson O'Shaughnessy of the University of Virginia will give two public talks in Massachusetts next week, both on his book
The Men Who Lost America: British Leadership, the Revolutionary War and the Fate of Empire
.
Here's a précis of the book:
The loss of America was a stunning and unexpected defeat for the powerful British Empire. Common wisdom has held that incompetent military commanders and political leaders must have been to blame, but were they? O'Shaughnessy dispels the incompetence myth and uncovers the real reasons that rebellious colonials were able to achieve their surprising victory.
On Tuesday, 10 April, O'Shaughnessy will kick off the
American Antiquarian Society
's Spring Public Lecture Series. That free event starts at 7:00 P.M. in Antiquarian Hall, 185 Salisbury Street in Worcester.
On Wednesday, 11 April, he'll deliver the
Lexington Historical Society
's Cronin Lecture. This free talk is co-sponsored by the
Friends of Minute Man National Park
and His Majesty's 10th Regiment of Foot. The evening starts at 6:00 P.M. with a reception in the Lexington Depot, and the lecture is scheduled for 7:00 P.M.
At both events copies of
The Men Who Lost America
will be available for sale and signing. The book has won many awards, including the George Washington Book Prize, the New-York Historical Society Annual American History Book Prize, The National Society Daughters of the American Revolution Excellence in American History Book Award, and the Fraunces Tavern Museum Book Award.
It's also a handsome, nicely packaged book. I've started to read it multiple times, and I keep running into the problem that Prof. O'Shaughnessy and I have fundamentally different ideas about how to use commas. But obviously other readers haven't been stopped that way, and sooner or later I'll try again.