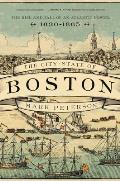 I recently stumbled across the podcast "The American War: Britain's American Revolution," which is not actually a podcast.
It's the recordings of five sessions of a conference at the Huntington Library years ago. But those are handily available
through Apple Podcasts
and other podcast apps.
The overall description says:
America's Revolution was Britain's American War. In this conference held at the Huntington Library in September 2012, international scholars considered the events of 1763 to 1783 from the perspective of Britain and its "other" colonies, focusing on the many ways the American War reshaped society, politics, and culture at home and abroad.
The organizers of the conference,
Edward G. Gray
and
Jane Kamensky
, had just edited
The Oxford Handbook of the American Revolution
.
In particular, I recommend the session titled
"A Third Way Lost: The City States of Boston and Kingston, the Parameters of Empire, and the American Revolution."
It was led jointly by
Trevor Burnard
, then professor of history and philosophical studies at the University of Melbourne, and
Mark Peterson
, then professor of history at the University of California, Berkeley.
Along with some epic humblebragging from Prof. Burnard, there's eye-opening discussion about whether to include Kingston among the biggest ports in British North America; about the regional influences and economic autonomies of Caribbean Jamaica and Puritan Massachusetts; and, once the audience gets involved with comments more than questions, whether Philadelphia was similarly dominant.
Burnard is now the Wilberforce Professor of Slavery and Emancipation at the University of Hull and the Director of the Wilberforce Institute. Since this conference he published such works as
Planters, Merchants, and Slaves: Plantation Societies in British America, 1650-1820
,
The Plantation Machine: Atlantic Capitalism in French Saint-Domingue and British Jamaica
with John Garrigus, and
Jamaica in the Age of Revolution
.
Peterson has become the Edmund S. Morgan Professor of History at Yale. His book
The City-State of Boston: The Rise and Fall of an Atlantic Power, 1630–1865
came out in 2019, and makes the case that Bostonians tried to be a "self-governing Atlantic trading center" until their success at bringing on independence led to their New England fief being subsumed into the larger United States, with cultural dominance being the only hegemony they could retain.