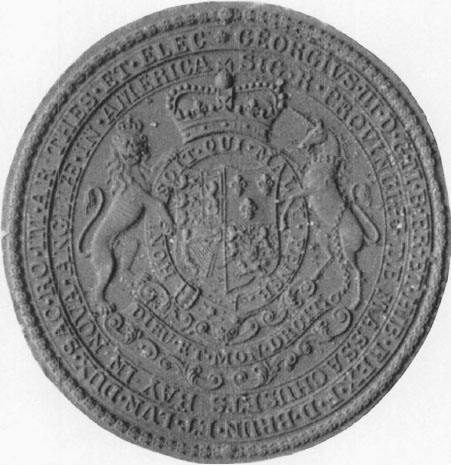 Hace you seen the last royal seal of Massachusetts?
At left is a picture of the impression the seal made. It shows the royal arms of Great Britain, with the lion and unicorn fighting for a crown, within a motto denoting the reign of
George III
.
As the
Massachusetts Secretary of State's website explains
, royal governors
Francis Bernard
,
Thomas Hutchinson
, and
Thomas Gage
used this seal on official commissions in the 1760s and early 1770s.
And then, in the middle of the
siege of Boston
, the royal seal disappeared. Gen. Gage issued a proclamation dated 3 Oct 1775 offering "a Reward of Ten Guineas" for its return.
The governor also summoned his
Council
and appointed a committee to find out where the seal had gone. On 6 October, Lt. Gov.
Thomas Oliver
, Chief Justice
Peter Oliver
, Treasurer
Harrison Gray
, William Browne, and
Richard Lechmere
reported back that they had conducted "a strict enquiry and examination under oath, of all those persons who have been returned to us, as having had access to the Council Chamber between the Ninth day of September and the Fourth of October." They had collected affidavits. But they had found no answers and no seal.
As
reported in the Colonial Society of Massachusetts Transactions
, Gage had to report to the
Earl of Dartmouth
, Secretary of State:
Boston 9th October 1775

My Lord…

I must inform Your Lordship that a Theft has been committed on the Province, and that all the Seals have been taken out of the Council Chamber where they were kept. This was observed on the 4th Inst; on the 6th I sent a Message to the Lieutenant Governor and Council, to make every necessary enquiry they possibly could, into the matter, which they have done, and I am sorry to tell Your Lordship without any good effect; which you will see by their answer to my message, which I have now the honor to transmit to Your Lordship.
I'm curious why the governor reported that people had noticed the seal was missing on 4 October when his proclamation was dated 3 October. Perhaps the young
printer
John Howe
had made an error, or perhaps Gage had. He was about to leave Massachusetts for good, sailing away on 11 October, so he had a lot of other things on his mind.
TOMORROW: Did Patriots steal the seal?