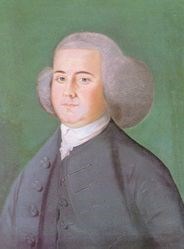 John Adams
's diary offers a case study of how well the Massachusetts Whigs kept the secrets that
Benjamin Franklin
asked
Thomas Cushing
to keep.
Adams received the "Collection of Seventeen Letters" on 22 March 1773. Since he was no longer a member of the Massachusetts legislature, he definitely wasn't on Franklin's list of people Cushing could share the letters with. But evidently he was supposed to take the letters to someone else while attending a county court.
At some point Adams copied the cover letter, omitting Franklin's name (if he'd even received the original revealing it). He also copied out the most damning letter by
Thomas Hutchinson
. As far as I can tell, there's no clear evidence of when Adams made that copy—it might have been after the letters were published. But Franklin had asked for no one to make copies.
We can presume Adams told his wife
Abigail
about the letters. She doesn't seem to have been as active in political discussions then as she would be later, when she didn't have four
children
under the age of eight to look after. But John was probably already sharing what was on his mind, and those letters certainly were.
On 24 April, John
wrote in his diary
:
I have communicated to Mr. Norton Quincy, and to Mr. Wibird the important Secret. They are as much affected, by it, as any others.
Norton Quincy (1716-1801) was Abigail's favorite uncle. He lived in some seclusion in
Braintree
after the death of his wife, so he probably wouldn't pass on the secret.
"Mr. Wibird" was the Rev. Anthony Wibird (1729-1800), the Adamses'
minister
, not yet in his dotage. Given New England's deference to clergymen, discussing the letters with him was at least understandable.
Adams went on, indicating he had already discussed the letters with two members of the
General Court
:
Bone of our Bone, born and educated among us! Mr. [John] Hancock is deeply affected, is determined in Conjunction with Majr. [Joseph] Hawley to watch the vile Serpent, and his deputy Serpent [William] Brattle.

The Subtilty, of this Serpent, is equal to that of the old one.
The "vile Serpent" was Gov. Hutchinson. William Brattle was a member of the
Council
who had been a big supporter of the anti-
Stamp Act
demonstrations in 1765 but then moved over to the royal authorities' side after becoming a
militia
general. He and Adams had a public argument over judicial salaries.
But those weren't all the people who knew.
Aunt is let into the Secret, and is full of her Interjections!
I'm not sure which lady Adams meant by this. I think he had only one living aunt at the time, Bethiah Bicknell of Braintree, and they weren't particularly close. He referred to many other older female relatives as "Aunt," however, so who knows what lady was interjecting about "the important secret"?
Adams had also heard how other people knew and might spread the word:
Cushing tells me, that [Council member Jeremiah Dummer] Powell told him, he had it from a Tory, or one who was not suspected to be any Thing else, that certain Letters were come, written by 4 Persons, which would shew the Causes and the Authors of our present Grievances. This Tory, we conjecture to be Bob. Temple [of Medford], who has received a Letter, in which he is informed of these Things. If the Secret [should leak] out by this means, I am glad it is not to be charged upon any of Us—to whom it has been committed in Confidence.
Because of course it would look bad if the Whigs couldn't keep a secret.
The next afternoon, Adams attended the Rev. Dr.
Samuel Cooper
's meeting in Boston:
Dr. Cooper was upon Rev. 12.9. And the great Dragon was cast out, that old Serpent called the Devil and Satan, which deceiveth the whole World: he was cast out into the Earth and his Angells were cast out with him. Query. Whether the Dr. had not some political Allusions in the Choice of this Text.
Adams felt Cooper was poor at keeping secrets, judging by his remark the following month after hearing Hancock speak of political plans. "Cooper no doubt carried it directly to Brattle, or at least to his Son Thomas," Adams wrote. "Such a leaky Vessell is this worthy Gentleman."
As I quoted yesterday, in June 1773 Cushing assured Franklin that only two other people knew he had supplied the letters—but one of those two was Cooper.
So really it's remarkable that the letters came as a surprise to anybody in Boston.