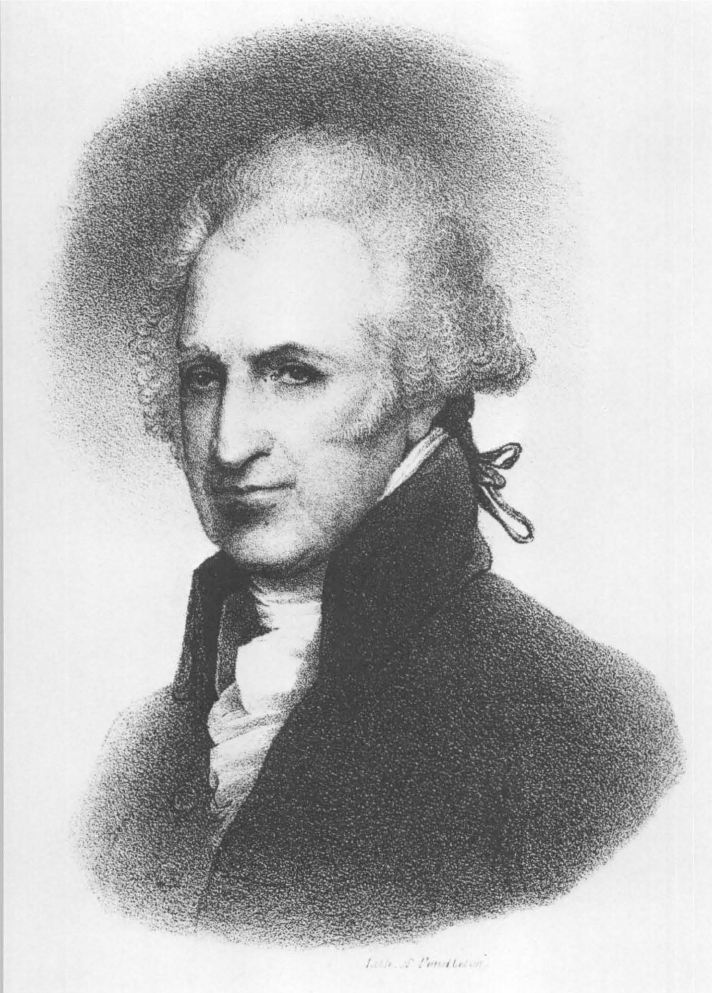 According to
James Otis
's first biographer, William Tudor, Jr., after his brawl in the British Coffee-House in September 1769 he received care from "Doctors Perkins and Lloyd."
Dr. James Lloyd
(1728-1810, shown here) was one of Boston's leading
medical
practitioners. Although he was a
Loyalist
in his politics, he remained in town after the
siege
and reestablished his popularity and practice.
There were three prominent doctors named Perkins in Boston at this time: John Perkins (1698-1781), his son William Lee Perkins (1737-1797), and Nathaniel Perkins (1715-1799). Nathaniel seems to have had the most active practice, so he's most likely to have examined Otis. The court records (more about that tomorrow) could say for certain.
Back in 1764 Dr. Nathaniel Perkins inoculated
John Adams
against
smallpox
, and Adams described him this way:
Dr. Perkins is a short, thick sett, dark Complexioned, Yet pale Faced, Man, (Pale faced I say, which I was glad to see, because I have a great Regard for a Pale Face, in any Gentleman of Physick, Divinity or Law. It indicates search and study). Gives himself the alert, chearful Air and Behaviour of a Physician, not forgeting the solemn, important and wise.
Lloyd and Perkins found James Otis had suffered a deep head wound. They reportedly testified that it must have come from "a sharp instrument," which Whigs insisted meant a sword. Nonetheless, all the eyewitness evidence says
Customs
Commissioner
John Robinson
walloped Otis with a walking stick.
Years later Adams wrote that Otis bore "a scar, in which a man might bury his finger," and joked, "what is worse, my friends think I have a monstrous crack in my skull."
At first, people thought Otis would recover. Within a few weeks he was behaving more rationally than before the fight. Toward the start of this series of postings I
quoted a couple of entries
from John Adams's diary just before the brawl. In early September Adams had been struck, then annoyed, by how much Otis was talking at social events.
The next time Adams mentioned Otis in his diary (which he kept sporadically enough that year that this might not have been the next time they met)
was on 19 October
. Adams wrote:
Last night I spent the Evening, at the House of John Williams Esqr. the Revenue officer, in Company with Mr. Otis, Jona. Williams Esqr. and Mr. McDaniel a Scotch Gentleman, who has some Connection with the Commissioners, as Clerk, or something.

Williams is as sly, secret and cunning a fellow, as need be. The Turn of his Eye, and Cast of his Countenance, is like [Ebenezer] Thayer of Braintree. In the Course of the Evening He said, that He knew that Lord Townsend borrowed Money of [Charles] Paxton, when in America, to the amount of £500 st. at least that is not paid yet. He also said, in the Course of the Evening, that if he had drank a Glass of Wine, that came out of a seizure, he would take a Puke to throw it up. He had such a Contempt for the 3ds. of Seisures. He affects to speak slightly of the Commissioners and of their Conduct, tho guardedly, and to insinuate that his Connections, and Interest and Influence at Home with the Boards &c. are greater than theirs.

McDaniel is a composed, grave, steady Man to appearance, but his Eye has it's fire, still, if you view it attentively.—

Otis bore his Part very well, conversible eno, but not extravagant, not rough, nor soure.
Adams was acerbic about Inspector Williams's boasting but thought Otis very well behaved. He no longer monopolized conversation or indulged in "bullying, bantering, reproaching and ridiculing" as he had weeks before. If Otis had indeed been suffering a manic mood back in early September, it had passed.
Unfortunately, in the following spring it became clear that James Otis had become prone to serious mental instability. The injury to his head might not have brought on such problems, but it certainly didn't help.