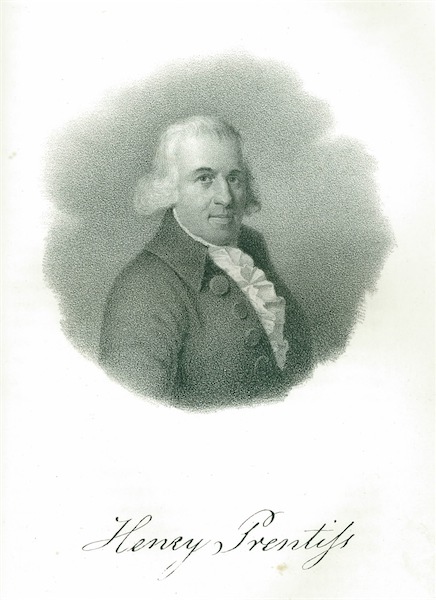 On the afternoon of Thursday, 8 Mar 1770—
250 years ago today
—Boston had a huge public
funeral
for the first four people to die after the
Boston Massacre
.
This was only eleven days after the funeral for
Christopher Seider
, reportedly attended by 1,300 to 2,000 people. The March procession had, in the estimate of merchant
John Rowe
, at least five times as many mourners:
I attended the Funeral of the four Unhappy People that were killed on Monday last. Such a Concourse of People I never saw before — I believe Ten or Twelve thousand. One Corps with their Relations followed the other & then the Select Men & Inhabitants.
Christopher Davis alerted me through Facebook to a
letter about this funeral
from
Henry Prentiss
(1749-1821, shown here in middle age) to his father, a
minister
in
Holliston
. Prentiss had just finished an apprenticeship with the merchant
Oliver Wendell
and asked his father to check "what he [Wendell] was to give me when my time was up"—meaning he didn't have a copy of his own indenture.
Prentiss sent his father an eyewitness account of the shooting on King Street and the
government deliberations that followed
. In a postscript, he added what information he'd gathered about the Massacre victims:
The Names of those persons that were killed and their occupation. Jackson a Molatto fellow. Sailor. Gray a Rope maker. Covil mate of a vessell. Munk a Boat Builder. Maverick a Lad about fifteen years of age. Wounded viz., Edwd Payne Mercht in this town shot thro his arm. Green a Taylor shot through his thigh. Patterson shot thro his arm. The Names of the Rest have slip'd my memory.
Even what Prentiss recalled had errors. The "Molatto fellow" was then being identified as "Michael Johnson," though within days he'd been named as
Crispus Attucks
. "Covil" was
James Caldwell
.
It doesn't appear that Prentiss was close to any of the victims. Indeed, he gave only one man's full name—Edward Payne, a fellow merchant.
The next morning, Prentiss appended his description of the funeral:
Yestaday Afternoon four of those unhappy persons that were shot last Monday Evening were inter'd, the procession was much the grandest of any ever seen in America. Gray's Corps went first then his Relations, then Covil and his Relations, then Maverick and his Relations & then Jackson & after Jackson the Inhabitants walk'd four a brest. I imagine to the number of three or four Thousand, & then a vast number of Carriges, they all four were buried in one grave & young Snider dug up & put with them.

severall company's of Soldiers are gone to the Castle and the Remainder embarking as fast as possible, to-morrow Night the town will be Clear of them.
Prentiss's estimate of the crowd at "three or four Thousand" might have been more accurate than Rowe's, but that was still the largest procession Boston had seen in decades. And speaking of estimates, it took a lot longer than two days to move all the soldiers out of Boston.
(My thanks to Christopher Davis, and to Holliston chronicler George F. Walker, for bringing this source to light.)