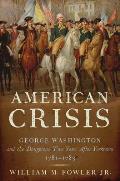 The
Falmouth Historical Society
is hosting a couple of off-season lectures about Revolutionary history in the coming weeks.
Wednesday, 22 February

William Fowler on
An American Crisis: George Washington and the Dangerous Two Years after Yorktown, 1781-1783
Most people believe the American Revolution ended in October, 1781, after the battle of Yorktown; in fact the war continued for two more traumatic years. During that time, the Revolution came closer to being lost than at any time in the previous half dozen. Fowler, former director of the Massachusetts Historical Society and emeritus professor of history at Northeastern University, examines how Washington held the Revolution together at a time when all of his victories might have been for naught.
This lecture and signing will start at 6:30 P.M. at the Cape Cod Conservatory, 60 Highfield Drive, Falmouth.
Friday, 30 March

Harlow Giles Unger on
American Tempest: How the
Boston Tea Party Sparked a Revolution
On Thursday, December 16, 1773, an estimated seven dozen men, many dressed as Indians, dumped roughly £10,000 worth of tea in Boston Harbor. Whatever their motives at the time, they unleashed a social, political, and economic firestorm that would culminate in the Declaration of Independence two-and-a-half years later.
This event will start at 6:30 P.M. at the First Congregational Church of Falmouth, 68 Main Street.
The cost for each program is $4 for members of the society, $5 for non-members. Tickets can be purchased at the venue or at the society, 65 Palmer Avenue.