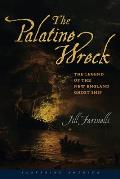 On Friday, 3 May, the New England Historic and Genealogical Society will host a
noontime lecture
by Jill Farinelli on the topic
"The Palatine Wreck: The Legend of the New England Ghost Ship."
The event description says:
Two days after Christmas in 1738, a British merchant ship traveling from the Netherlands to Pennsylvania grounded in a blizzard on the northern tip of Block Island, 12 miles off the Rhode Island coast.

The ship carried emigrants from the Palatinate and neighboring territories in what is now southwest Germany. The 105 passengers on board—sick, frozen, and starving—were all that remained of 340 men, women, and children, who left their homeland the previous spring to move to America. They now found themselves castaways, on the verge of death, and at the mercy of a community of strangers whose language they did not speak.

From this incident sprang one of New England's most chilling maritime mysteries. Shortly after the wreck, stories began circulating that the passengers had been mistreated by the ship's crew and by some of the islanders. The stories persisted, transforming over time as stories do, and in less than a hundred years, two terrifying versions of the event were in circulation.
Farinelli is a local writer and editor.
The Palatine Wreck
, published by the University Press of New England, was her first work of historical nonfiction.
This talk will begin at noon on Friday at 99-101 Newbury Street in Boston. It is free and open to the public.