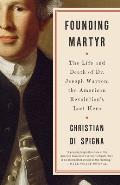 Christian Di Spigna, author of
Founding Martyr: The Life and Death of Dr. Joseph Warren, the American Revolution's Lost Hero
is making another swing through New England with book talks and signings.
These events coincide with the conjunction of the paperback edition of
Founding Martyr
,
Warren
's birthday (both on the 11th), Father's Day (the 16th), and the anniversary of the Battle of
Bunker Hill
(the 17th).
Here are Christian's upcoming public appearances:
Monday, 10 June, 7:00 P.M.
West End Museum, 150 Staniford Street, Boston
Tuesday, 11 June, 7:00 P.M.
Charlestown Historical Society, 43 Monument Square,
Charlestown
Wednesday, 12 June, 7:00 P.M.
Adams National Historic Park, 1250 Hancock Street,
Quincy
Thursday, 13 June, 6:00 P.M.
General Henry Knox Museum, 30 High Street, Thomaston,
Maine
Tuesday, 18 June, 1:00 to 3:00 P.M.
Paul Revere House, 19 North Square Boston