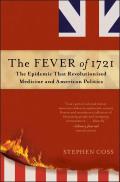 At the start of the month I participated in a couple of online conversations recorded for history.
First was the
"Onesimus and Rev. Cotton Mather: Race, Religion, and the Press in Colonial America"
organized by the Freedom Forum. This was part of a series titled "Religious Resolve," and it focused on the response to smallpox in Boston in 1721.
Here's the recording
.
Here are some of the texts and studies we mentioned in this discussion:
John Adams's account of being inoculated against smallpox in 1764.
Abigail Adams's account of having her household inoculated in 1776.
Benjamin Franklin's remarks on his son not being inoculated, in 1736 and decades later.
Kathryn Koo's article "Strangers in the House of God: Cotton Mather, Onesimus, and an Experiment in Christian Slaveholding" (P.D.F. download).
Lorenzo J. Greene, The Negro in Colonial New England, 1620-1776 (1942).
William D. Pierson, Black Yankees: The Development of an Afro-American Subculture in Eighteenth-Century New England (1988).
Daniel R. Mandell, Behind the Frontier: Indians in Eighteenth-Century Eastern Massachusetts (1996).
Elizabeth A. Fenn, Pox Americana: The Great Smallpox Epidemic of 1775-82 (2002).
Alex Goldfeld, The North End, A Brief History of Boston's Oldest Neighborhood (2009).
C. S. Manegold, Ten Hills Farm: The Forgotten History of Slavery in the North (2009).
Stephen Coss, The Fever of 1721: The Epidemic That Revolutionized Medicine and American Politics (2009).
Jared Hardesty, Unfreedom: Slavery and Dependence in Eighteenth-Century Boston (2016).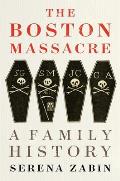 The second recording comes from the Dr. Joseph Warren Historical Society, founded by Christian DiSpigna and Randy Flood. They've been posting a series of video interviews with authors and invited me to be a guest host for a conversation with Serena Zabin about her new book
The Boston Massacre: A Family History
.
That recording is here
.
In addition to Zabin's new book, we talked about some older texts, and here's what I remember:
Hiller B. Zobel, The Boston Massacre (1970).
The Legal Papers of John Adams, edited by L. Kinvin Wroth and Zobel (1965), readable here.
A Short Narrative of the Horrid Massacre, Boston's official report on the event, readable here.
My articles on Pvt. John Moies of the 14th Regiment, starting here.