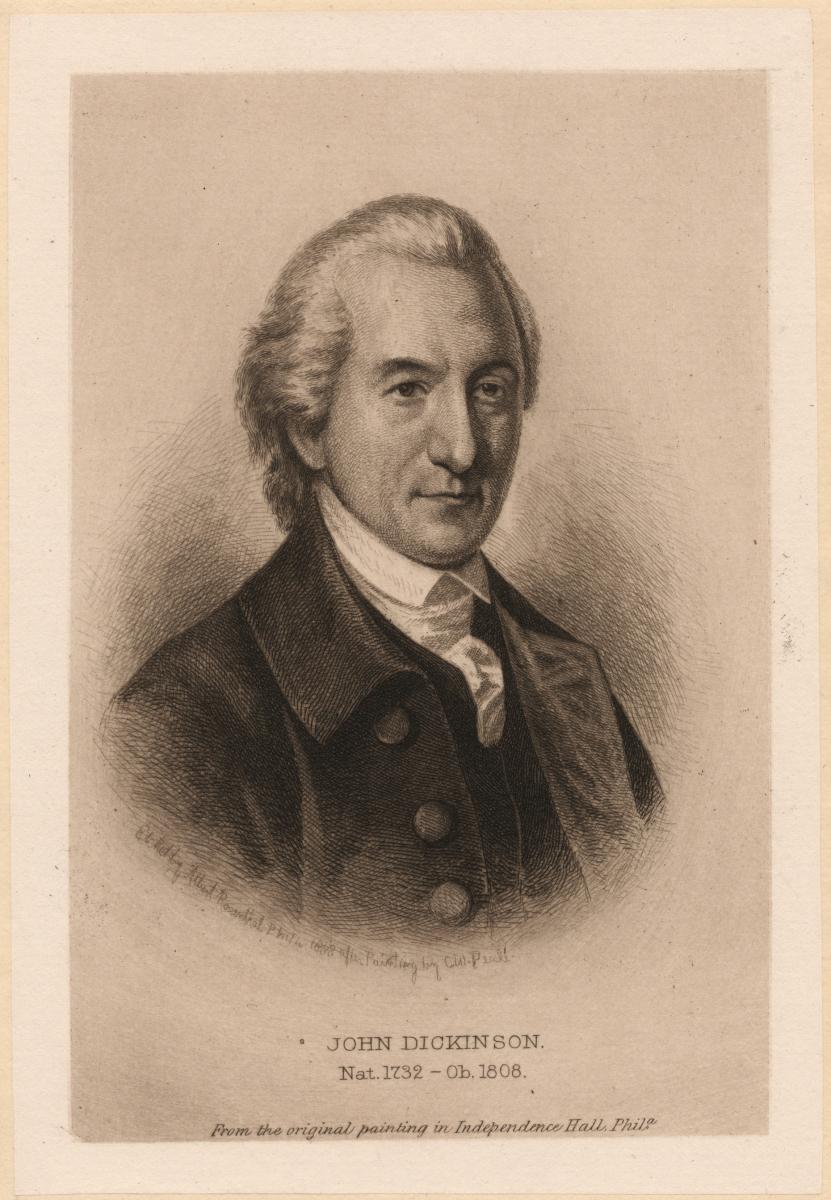 Back in 2012
I made a point about the steady flow of books on
Thomas Paine
by comparing that output to the sparse number of books on
John Dickinson
.
I counted over a dozen recent books on Paine and only two on Dickinson—one published by an outfit co-founded by William F. Buckley to promote conservative politics on college campuses and one written by Jane E. Calvert, who became a professor at the University of Kentucky.
Calvert formed the John Dickinson Writings Project to produce a scholarly edition of this Founder's output, which will ease further research and publications on his work.
That enterprise has now published the first volume of
The Complete Writings and Selected Correspondence of John Dickinson
, covering the man's legal training in London and early
law
practice in the 1750s. The editorial staff is forging ahead on more.
This autumn Prof. Calvert is leading a
three-session seminar
on
"John Dickinson and the Making the the U.S. Constitution, 1776-1788"
through the Library Company of Philadelphia.
This seminar will consider the innovative contributions of John Dickinson to the creation of the United States Constitution through his work on the Articles of Confederation (1776), the Annapolis Convention (1786) that met to consider the shortcomings of the Articles, the ensuing Federal Convention (1787), and the debate over ratification (1788).

As the only leading figure to contribute substantially to every phase of the American Founding beginning with the Stamp Act resistance, Dickinson also played a key role during the constitutional era. This timely seminar will explore drafts, notes, and essays, along with selected secondary source readings, to understand Dickinson's contributions to the U.S. Constitution, reflecting on both what he offered and what his colleagues rejected.
Calvert's seminar guests will include Liz Covart of the
Ben Franklin's World
podcast, John Kaminski of the Study of the American Constitution at the University of Wisconsin-Madison, and Jack N. Rakove, emeritus W. R. Coe Professor of History and American studies at Stanford University.
The conversations will take place online over three Wednesday evenings, 5:30–7:00, two weeks apart: on 21 October, 4 November, and 18 November.
Register here
. Registrants will receive a syllabus and readings for the three sessions.