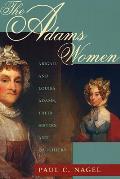 To answer
yesterday's question
, the Rev.
Anthony Wibird
,
minister
of the north precinct of
Braintree
(which became
Quincy
) never married.
Even as he discussed marriage with the parson as another young man attracted to
Hannah Quincy
,
John Adams
may have sensed that Wibird wasn't really that interested in marrying. He wrote that the parson showed a "dronish effiminacy," which seems like a sort of queerness, though whether it's asexuality or homosexuality Adams didn't clarify—or maybe didn't understand.
Adams felt that Wibird was waiting for a
woman
to "conquer him and rouse his spirit." None did. As a minister with a salary of £100 a year, Wibird could offer social and economic status. Perhaps the physical
disabilties
Adams described as
quoted here
(or the physiognomic oddities Adams also described but I didn't quote) turned women off. But other men with greater disabilities and less social status got married, and Parson Wibird never did.
As a result, according to Paul Nagel in
The Adams Women
, the community duties that a minister's wife usually performed fell to
Mary Cranch
. She and her husband
Richard
became organizers of the congregation while her younger sister
Abigail
spent more and more years away from Braintree with her husband John, and her baby sister
Betsy
married a minister in
Haverhill
.
By the late 1780s, Parson Wibird's infirmities became more pronounced. People noticed that he wasn't keeping his house or his clothing clean. In 1787 Mary Cranch wrote of "that vile house," and said, "if it was in Boston the
Select men
would pull it down."
Wibird had always repeated sermons, but now that habit got worse, and he missed dates. In the 1790s, there was a multi-year effort to hire an assistant minister to make up for Wibird's declining abilities and ease him out.
Congregants worried about how Wibird would take that, but he dutifully attended his young colleague's ordination in early 1800. Then people noticed he kept wearing the same
shirt
for six weeks. Like his house, it became infested with vermin. Finally, Mary Cranch assembled a committee of male neighbors and marched in.
They bathed Wibird, rubbed salve on his insect bites, packed some belongings, and took him, partly by force, to a neighbor's house to live. There the septuagenarian parson read books and chatted with visitors for a couple more months before dying.
(In the twenty years since Nagel wrote
The Adams Women
, the
Adams Family Correspondence
volumes have caught up to the letters that he quoted from microfilm, but the volume covering the minister's bath is still not available digitally.)
COMING UP:
Hannah Quincy and her husband
.