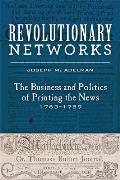 If you're intrigued by the stories of
John Mein
,
Edes and Gill
,
Mills and Hicks
, and other Boston
printers
behaving badly, check out Joseph M. Adelman's new book
Revolutionary Networks: The Business and Politics of Printing the News, 1763-1789,
recently published by the Johns Hopkins University Press.
Here's an extract from the publisher's description:
Adelman argues that printers—artisans who mingled with the elite but labored in a manual trade—used their commercial and political connections to directly shape Revolutionary political ideology and mass mobilization. Going into the printing offices of colonial America to explore how these documents were produced, Adelman shows how printers balanced their own political beliefs and interests alongside the commercial interests of their businesses, the customs of the printing trade, and the prevailing mood of their communities.

Adelman describes how these laborers repackaged oral and manuscript compositions into printed works through which political news and opinion circulated. Drawing on a database of 756 printers active during the Revolutionary era, along with a rich collection of archival and printed sources, Adelman surveys printers' editorial strategies. Moving chronologically through the era of the American Revolution and to the war's aftermath, he details the development of the networks of printers and explains how they contributed to the process of creating first a revolution and then the new nation.

By underscoring the important and intertwined roles of commercial and political interests in the development of revolutionary rhetoric, this book essentially reframes our understanding of the American Revolution. Printers, Adelman argues, played a major role as mediators who determined what rhetoric to amplify and where to circulate it.
Adelman
is a professor at Framingham State University and Assistant Editor for Digital Initiatives at the Omohundro Institute of Early American History and Culture. He'll be speaking about how the Revolution was reported, amplified, and commodified in the newspapers of the day at multiple venues around Boston, starting today:
Saturday, 2 November, 3:00 P.M.
Arlington Historical Society
Smith Museum, 7 Jason Street, Arlington
Thursday, 7 November, 7:00 P.M.
Lexington Historical Society
Buckman Tavern, 3 Bedford Street, Lexington
Monday, 2 December, 5:30 P.M.
Massachusetts Historical Society
1154 Boylston Street, Boston