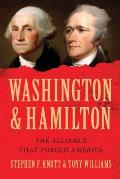 On Friday, 15 May, the Lexington Historical Society is hosting its annual Cronin Lecture—but this year the talk will be online.
The
event announcement
says:
Join Stephen Knott, co-author [with Tony Williams] of Washington and Hamilton: The Alliance that Forged America, to hear the tumultuous story of the nation's founding through the unlikely duo of George Washington and Alexander Hamilton.

Despite differences in temperament and ambition, Washington and Hamilton were able to form a partnership that brought America through the battlefields of the Revolution, the Constitutional Convention, and the early years of the republic. The Library of Law and Liberty writes that Knott is able to to explore the "volatile but ultimately durable alliance of George Washington and Alexander Hamilton, showing that constitutional statesmanship is not some mythical creature."
Knott is a Professor of National Security Affairs at the United States Naval War College in Newport. He formerly co-chaired the Presidential Oral History Program at the Miller Center of Public Affairs at the University of Virginia.
This event is scheduled to take place on the Zoom platform on Friday from 7:00 to 8:30 P.M. It is free, but one must
register to access the feed
. Refreshments will be served as long as you serve yourself refreshments. Thanks to the Lexington Historical Society for making this event available.
Knott's book falls into the subsection of recent Founders' biographies that look at
two
important people instead of one, or instead of several. The relationship between those politicians, such books argue, shaped their work and thus the republic.
If we were to plot the pairings of all those books as a network, Washington would be one of the biggest nodes, with almost everybody wanting to be close to him. In addition to Knott and Williams's look at Washington and Hamilton, I can think of:
David A. Clary, Adopted Son: Washington, Lafayette, and the Friendship that Saved the Revolution
Thomas Fleming: The Great Divide: The Conflict Between Washington and Jefferson that Defined a Nation
Gerard W. Gawalt, George Mason and George Washington: The Power of Principle
Edward J. Larson, Franklin and Washington: The Founding Partnership
Eric Leibiger, Founding Friendship: George Washington, James Madison, and the Creation of the American Republic
Dave R. Palmer, George Washington and Benedict Arnold: A Tale of Two Patriots
Jefferson would have a lot of links, too, not all of them so friendly. In addition to Fleming's book about Washington and Jefferson, there are:
Andrew Burstein and Nancy Isenberg, Madison and Jefferson
Tom Chaffin, Revolutionary Brothers: Thomas Jefferson, the Marquis de Lafayette, and the Friendship that Helped Forge Two Nations
John Ferling, Jefferson and Hamilton: The Rivalry that Forged a Nation
Gerard W. Gawalt, John Adams and Thomas Jefferson: Creating the American Republic
James F. Simon, What Kind of Nation: Thomas Jefferson, John Marshall, and the Epic Struggle to Create a United States
Gordon S. Wood, Friends Divided: John Adams and Thomas Jefferson
Hamilton's recent popularity is evident in the growing number of books about his relationships, though it's telling that most of those are about rivalries rather than long partnerships. In addition to the two titles already mentioned, I found:
Jay Cost, The Price of Greatness: Alexander Hamilton, James Madison, and the Creation of American Oligarchy
Thomas Fleming, Duel: Alexander Hamilton, Aaron Burr, and the Future of America
And now Madison has been paired up with three other Founders. Not to mention outliers:
Yuval Levin, The Great Debate: Edmund Burke, Thomas Paine, and the Birth of Right and Left
There may well be other two-Founder biographies I've missed, so leave comments. I'm not including dual biographies of married couples or blood relations, nor studies of trios and larger groups.