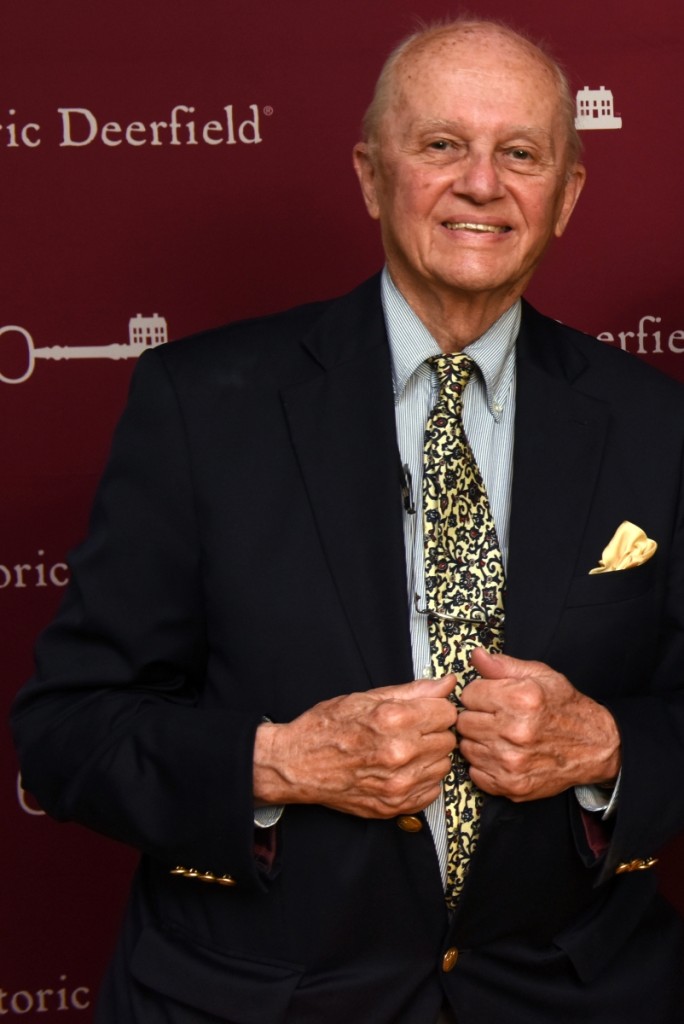 Earlier this month, Joseph Peter Spang died at the age of eighty-five. I had the honor of meeting him at the Dublin Seminar for New England Folklife, which took place in the white church at Historic Deerfield.
To be frank, I was deathly afraid Peter would trip over my extension cord in his trips up and down the aisles, greeting everyone and offering words of encouragement.
At Antiques and the Arts Weekly
, Donald Friary wrote about Peter's career at Deerfield:
Soon after his return from [study at the Courtauld Institute in] London, Peter learned that Helen and Henry Flynt were seeking a fledgling curator to assist them in managing their growing collection at Deerfield.

Under the tutelage of artist and Deerfield descendant Elizabeth Fuller, Abbott Lowell Cummings of the Society for the Preservation of New England Antiquities, and the local historical researcher Amelia "Mimi" Miller, Peter learned the history of Deerfield and became acquainted with the remarkable survival of books, manuscripts and objects at the Pocumtuck Valley Memorial Association and in Deerfield families.

He worked with steady, but gentle, persuasion to direct the Flynts to focus their collecting and furnishing more closely on Deerfield. He was for more than ten years the only professional staff member at Historic Deerfield and was involved with everything – the library, educational programming and lecturing near and far on the Deerfield project.
Phil Zea and Joseph P. Gromacki of Historic Deerfield
wrote
:
As Historic Deerfield's founding curator, he began work for Henry and Helen Flynt on September 19, 1959 at 3:30 p.m. His legendary attention to detail and his memory, forged as a staff member and then a long-time trustee, became both a signature and tool.

Peter was first and foremost a steward of his adopted town. He valued tradition, collectors, and collecting anything—especially ocean liner memorabilia and architectural pattern books, the latter now housed in our Joseph Peter Spang III Rare Book Room at the Memorial Libraries. His commitment to Deerfield was the central thread of our institutional history for three generations of museum visitors, supporters, trustees and staff members, and most particularly students.

Peter loved to participate in scholarship. He mentored every one of the 450+ Historic Deerfield Summer Fellows since the program's founding in 1956, and surely none have ever forgotten him. Peter also mentored generations of staff members at both Historic Deerfield and the Pocumtuck Valley Memorial Association. He shaped the how behind the what for many of us in the arts, humanities, and antiques marketplace. Peter knew the value of storytelling and documentation, and he wedded them together "in the best documented small town in America."
Historic Deerfield has established the
Joseph Peter Spang III Memorial Fund
to "support the preservation of Deerfield's deep cultural history and the dissemination of the town's most inspired national stories."