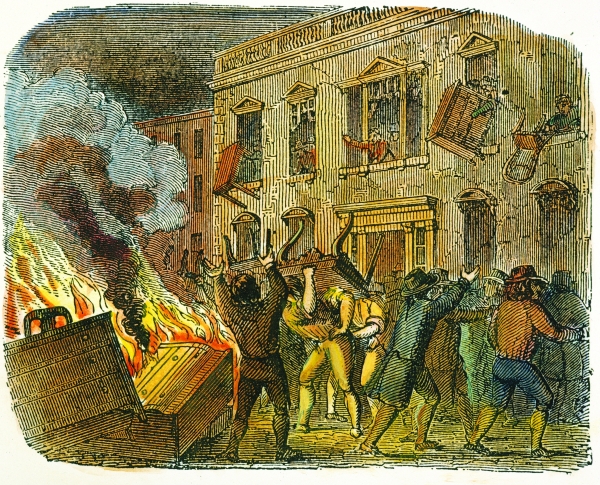 On Tuesday, 27 August, the day after a
mob
destroyed Lt. Gov.
Thomas Hutchinson
's house, some people blamed the Rev.
Jonathan Mayhew
's latest
sermon
.
In his history of Massachusetts, Hutchinson wrote the sermon had implied "approbation of the prevailing irregularities." Without naming his source, he said:
One who had a chief hand in the outrages which soon followed, declared, when he was in prison, that he was excited to them by this sermon, and that he thought he was doing God service.
That way of understanding the attack on Hutchinson's mansion fit the
Loyalist
worldview: an influential and irresponsible upper-class leader, carried away by ideological enthusiasm or private resentment, riled up the mob, who then unthinkingly attacked an innocent, rational upper-class leader.
That view of events wiped out the need to consider ordinary people's common grievances and their lack of other ways to express themselves politically. It reduced a complex situation, in which many Bostonians had resented Hutchinson for years
and
the town's ministers carried a lot of weight, into a simple picture of a misguided puppeteer and puppets.
Hutchinson and his circle weren't the only people who suspected Mayhew's sermon might bear some responsibility for the riot. Mayhew himself got worried, if only because people were blaming him. On 27 August, he struggled over a letter to the lieutenant governor, now
transcribed in the Colonial Society of Massachusetts's Hutchinson Letters
:
Honored Sir,

I take the freedom to write you these few lines by way of condolence, on account of the almost unparalell'd outrages committed at your house the last evening, and the great Damage which I understand you have suffered thereby. God is my witness, that from the bottom of my heart I detest these proceedings; and that I am sincerely grieved for them, and have a deep sympathy with you and your distressed family on this occasion.

I the rather write to You in this manner, Sir, because I understand that some of my numerous and causeless enemies have expressed them selves to day, as if I approved of these doings, and had indeed encouraged them in a Sermon which I preached the last Lord's day on Gal. 5. 12, 13. This I absolutely deny.

I did indeed express my self strongly in favor of civil & religious liberty, as I hope I shall ever continue to do; and spoke of the late Stamp Act as a grievance, likely to prove detrimental in a high degree, both to the Colonies, and to the Mother Country; which, I believe, is the sense of almost every person of understanding in the Plantations; and, particularly, I have heard your Honor speak to the same Purpose.

But then, as my text led me to do, I cautioned my Hearers very particularly against the abuses of liberty; and intimated my hopes, that no persons among our selves had encouraged the bringing of such a burden on their country, notwithstanding it had been strongly suspected.

Let me add, that when in private company I have often heard your Honor spoken of as one, who was supposed to have been an encourager of the Act aforesaid, I have as often taken the Liberty to say, I had heard you express your self in a manner that strongly implied the contrary; which I did with a view to remove those prejudices which I perceived some persons had against you in that respect. And, in truth, I had rather lose my hand, than be an encourager of such outrages as were committed last night. . . .

But, at the same time I must beg your Honor not to divulge what I now write, so that it may come to the knowledge of those enraged people, who have acted such a part; not a single person of whom, or of their Advisers, do I know. For it could do no good in the present circumstances, and the temper which they are in; and might probably bring their heavy vengeance upon myself, who am none of their friend, any farther than to wish them repentance.
Mayhew's description of the situation fit the Whiggish worldview: he had delivered perfectly justified remarks about political and religious liberty, but his "numerous and causeless enemies" seized on a sort of trouble he'd never encouraged and indeed condemned to make him look bad.
But was Mayhew protesting too much? Did he worry that his sermon had gone too far?
TOMORROW: Another sermon, and another letter.