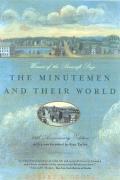 There are two big mysteries in my book
The Road to Concord
. The first is how in September 1774 Boston Patriots managed to get two
cannon
out of a locked
militia
armory with
redcoat soldiers
standing guard at the front door and an entire regiment camped across the street.
The second mystery is who in
Concord
was sending Gen.
Thomas Gage
detailed reports on the artillery and other military supplies that the
Massachusetts Provincial Congress
's agents were amassing in that town in March and April 1775. That one I didn't find a definite answer to.
In writing the book, I listed the retired merchant captain
Duncan Ingraham
as a possible suspect. As for what might have motivated him, I wrote about his tussles with the Patriots over artillery:
Some of those four-pounders [in Concord] came from Concord resident Duncan Ingraham, who in 1778 petitioned the legislature "that he may be paid for four Four-pound Cannon, which were taken for the public Service in October 1774." Ingraham was a merchant captain who had settled in Concord with his new wife just the year before. Those cannon might therefore have been property left over from his maritime career. Ingraham was not a Patriot. He refused to participate in boycotts of British imports, he was ready to hold court sessions as a justice of the peace, and he hosted British army officers at dinner. The people of Concord showed their disapproval of this new arrival by hanging a sheep's head and guts on his chaise. They also confiscated his property: on January 3, 1775, Dr. Joseph Lee wrote in his diary, "The mob unloaded Capt. Ingraham's Bords that were to go to Boston," where they might have been used by the army to build barracks. It seems likely that the community seized Ingraham's four cannon for the public good.
That suggestion caught the attention of Robert Gross,
the
expert on Concord. In fact, I'd studied his Bicentennial classic
The Minutemen and Their World
to learn more about the town and locals like Ingraham, Dr. Lee, and
James Barrett
and his family. Look for his new study of Concord's next greatest generation,
The Transcendentalists and Their World
, later this year.
With the help of John Hannigan, curator (and
the
expert on Revolutionary documents) at the
Massachusetts Archives
, Bob Gross sought out the documents supporting Ingraham's 1778 and 1791 petitions for compensation. They show that my guess about who took Ingraham's cannon was mistaken—the people of Concord didn't do that. Instead, the people of Boston did.
And like so many other radical acts in Boston between 1768 and 1774,
William Molineux
was in the thick of it.
TOMORROW: The cannon Duncan Ingraham left behind.