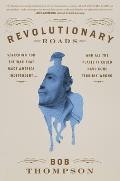 On Tuesday, 14 March,
History Author Talks
will host Bob Thompson answering questions about his new book,
Revolutionary Roads: Searching for the War That Made America Independent...and All the Places It Could Have Gone Terribly Wrong
.
That online event starts at 7:00 P.M.
Register here
.
Revolutionary Roads
is a road trip to scores of historical sites important in America's move toward independence to explore how they're being remembered today as we move toward the Sestercentennial. The publisher calls it "In the ride-along tradition of Sarah Vowell, Tony Horwitz and Bill Bryson."
In the Berkshire Eagle
Bill Everhart writes:
Readers soured on history by leaden textbooks will appreciate Thompson's breezy style and dry humor. He is wonderfully sardonic, if not caustic, about the foibles and blunders of the Great Men on both sides whose actions and — quite often — inactions determined the course of the war and of history.
But this book doesn't stop in 1783 with the end of the war. Thompson also explores how people are keeping its stories alive today. And that's how I come in. Literally.
On page 11 Thompson writes:
The first thing one notices about the proprietor of Boston 1775—a blog with the tagline "History, analysis, and unabashed gossip about the start of the American Revolution in Massachusetts"—is the pair of nineteenth-century sideburns that threaten to rendezvous under his chin.

Otherwise, he looks like a well-groomed graduate student: jeans, blue-and-white checked shirt, thick dark hair, and a youthful face that made me surprised to hear he was forty-nine when I met him.
Not only is that accurate, but it's prescient. As of December, when I had to recover from Covid-19, the sideburns I grew when I was sixteen years old have indeed met in a full beard.
This passage goes on to lay out the origin story of my avocation as a writer of Revolutionary history and
Boston 1775
. So if you're interested in that, along with conversations with other Revolutionary investigators and lots of observations about the past and present, check out
Revolutionary Roads
by Bob Thompson.