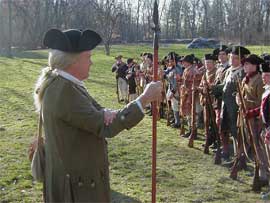 Next week I'll be one of the presenters at a teachers' workshop organized by
Minute Man National Historical Park
. My topic will be the Massachusetts
militia system
and that institution's role in
The Road to Concord
.
Preparing for that session, I've been reviewing the Massachusetts militia
laws
. In January 1776 the
General Court
approved an update of the main law, which dated to the reign of William and Mary.
The new law defined the people required to participate in the militia's seasonal military training this way [my formatting for clarity]:
That that Part of the Militia of this Colony, commonly called the Training-Band, shall be constituted of all the able-bodied Male Persons therein, from sixteen Years old to fifty, excepting


Members of the American Congress,
Members of the Council, and of the House of Representatives for the Time being,
the Secretary of the Colony, all Civil Officers that have been, or shall be appointed by the General Court or either Branch of it,
Officers and Students of Harvard-College,
Ministers of the Gospel, Elders and Deacons of Churches, Church-Wardens,
Grammar School-Masters,
Masters of Arts,
the Denomination of Christians called Quakers,
Select Men for the Time being,
those who have by Commission under any Government or Congress, or by Election in Pursuance of the Vote of any Congress of the Continent, or of this, or any other Colony, held the Post of a Subaltern, or higher Officer,
Persons while actually employed as Masters of Vessels of more than thirty Tons Burthen, other than Fishing Vessels, and Vessels coasting this Colony, and to and from this Colony to the other New-England Governments,
Constables, and Deputy Sheriffs,

and shall be under the Command of such Officers as shall be chosen, impowered and commissionated over them, as is by this Act provided;

and the Select-Men, or the major Part of them of each town, shall be, and hereby are impowered by Writing under their Hands, to excuse from Time to Time such Physicians, Surgeons, Ferrymen and Millers in their respective Towns, from common and ordinary Trainings, as they shall judge it necessary to excuse:
In effect, this law excused gentlemen at the top of society (Harvard men, office-holders, and ministers) from training while also barring men from the bottom (non-whites). Some workplaces were deemed so important that their employees could also be excused: transatlantic ships, ferries, mills.
That left the vast majority of white men in the colony in the training band: small farmers, as well as craftsmen. The previous militia law included men between the ages of fifty-one and sixty; this one assumed fiftysomethings didn't need more training. However, a later clause of the same law stated that white men aged fifty to sixty-five were on the "Alarm List" to be called up in a military emergency—"Provided, That no Persons above sixty Years of Age, nor such Millers and Ferrymen,…shall be compelled to march out of the Town wherein they have their usual Place of Abode."
Men who had ever been commissioned as military officers didn't have to show up for drills; presumably, they already knew the drill. And perhaps legislators felt that it would be awkward for such men to stand in the ranks and receive orders from militia officers with less experience.
Not being required to attend training didn't exclude men from turning out with the militia in an emergency. We know such men of African descent as
Prince Estabrook
,
David Lamson
, and
Caesar Ferrit
marched with the provincial militia companies on 19 Apr 1775. In an actual battle, I suspect, neighbors were happy for all the support they could get. But it's also possible that by the 1770s towns were ignoring the part of the provincial law that excluded non-whites from training.