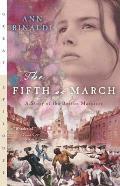 The novelist Ann Rinaldi
died early this month
at the age of eighty-six.
Rinaldi was best known for her historical novels about teen-aged girls involved in significant historical events, particularly the American Revolution.
She was a newspaper columnist who published a couple of contemporary young adult novels in the early 1980s. Meanwhile, her son Ronald had become a reenactor in the Bicentennial, drawing his sister into the hobby. So of course the parents had to travel with them.
"My son dragged us to every battlefield, monument, fort, and battleground, north and south, from
Saratoga
to
Yorktown
," Rinaldi told
Something About the Author
. Reenacting immerses participants in the concerns of daily life—
clothing
,
food
,
handcrafts
. Those same details make historical fiction immersive.
Rinaldi applied her growing history knowledge to the Y.A. field to produce the novel
Time Enough for Drums
, set around the Battle of Trenton. Though historical fiction isn't always popular with kids, it had a boom in the 1990s. Rinaldi soon made a specialty of stories set in the past. She often took well documented, well known families as her starting-points and mixed in the concerns of her teen-aged readers. And she was prolific.
Rinaldi's novels set in the long eighteenth century include:
Time Enough for Drums (1986)
Wolf by the Ears (1991)
A Ride into Morning: The Story of Tempe Wick (1991)
A Break with Charity: A Story about the Salem Witch Trials (1992)
The Fifth of March: A Story of the Boston Massacre (1993)
Finishing Becca: The Story of Peggy Shippen and Benedict Arnold (1994)
The Secret of Sarah Revere (1995)
Hang a Thousand Trees with Ribbons: The Story of Phillis Wheatley (1996)
The Second Bend in the River (1997)
Cast Two Shadows: The American Revolution in South Carolina (1998)
Taking Liberty: The Story of Oney Judge, George Washington's Runaway Slave (2002)
Or Give Me Death: A Novel of Patrick Henry's Family (2003)
In addition, Rinaldi wrote about the U.S. Civil War, westward settlement, immigrant neighborhoods—almost fifty novels in all.
In 2017 Laura Ansley, now managing editor at the American Historical Association,
wrote at the Junto
: "With her focus on teenage heroines, Rinaldi showed that history wasn't only about important men. Young women experienced these historical events too, and their stories were also worth telling. . . . Speaking with other female academics around my age, I know that I'm not the only one who read and loved these books."