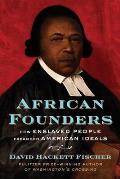 In 1989, or a third of a century ago, David Hackett Fischer published
Albion's Seed: Four British Folkways in America
.
That book described four important migrations from Britain to its North American colonies, starting with the Puritans of East Anglia populating New England.
After issuing
Paul Revere's Ride
in 1994 and
Washington's Crossing
in 2004, among other books, Fischer returned to the cultural beat in 2005 with
Liberty and Freedom: A Visual History of America's Founding Ideas
.
That book's card page (publishing jargon for the page listing an author's other works) identified it as the third volume in a series that began with
Albion's Seed
, a series called "America: A Cultural History."
The second of the four listed volumes was to be
American Plantations: African and European Folkways in the New World
. That came out this year with a new title,
African Founders: How Enslaved People Expanded American Ideals
.
LitHub just extracted a historiographical portion of
African Founders
in a
web article
is titled "How Empirical Databases Have Changed Our Understanding of Early American Slavery," which stresses "New Tools of Truth-Seeking."
In fact, the Trans-Atlantic Slave Trade Database launched on C.D. in 1999 and has been on the web at
SlaveVoyages.org
since 2008. Gwendolyn Midlo Hall published her
Databases for the Study of Afro-Louisiana History and Genealogy
on disk in 2000, and that's also
online now
. These databases are well known to scholars in the field.
Fischer doesn't make the claim that those resources are new, though they may well have arrived since he started work on this book. Rather, he wrote about them to give credit where it's due and show readers the changes in the field. For instance:
Some American historians have long believed that many or even most slaves who came to the mainland colonies in North America had been "seasoned" in the Caribbean, or born and raised there, or were "Atlantic Creoles" who had been raised there and in other Atlantic places. There was some truth in these beliefs, during early years of the slave trade to North America.

But overall, [the Intra-American Slave Trade Database produced by Gregory] O'Malley found them to be very much mistaken. In his database of slaves shipped from the West Indies to North America, 92 percent were "new negroes" from Africa, who were quickly transshipped through West Indian ports to mainland colonies. Only about 8 percent were "seasoned" or "Creole" West Indian slaves.
Unfortunately, because the article is based on the book text, it doesn't include links to the databases it discusses. But it does offer some pointers for people researching American slavery on their own. And I added some of those links here.