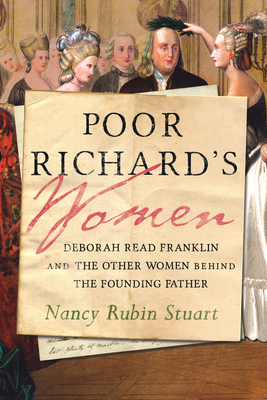 The Lexington Historical Society's Cronin Lecture Series is starting again this week. Here's the lineup.
Thursday, 22 September, 7:00 P.M.
Lexington Depot
Nancy Rubin Stuart on Poor Richard's Women
Behind any founding father are numerous founding mothers, sisters, and lovers. Benjamin Franklin had a large cast of women in his life, most importantly his wife of 44 years, Deborah Read Franklin. While frequently absent from the historical narrative due to their frequent time apart, Deborah was an important witness to and active participant in the political workings of the early Revolution, running the family businesses and raising a family in tumultuous times with her husband often away. Then as Franklin traveled the globe, his social circle also expanded to include landladies and liaisons in London and Paris.

Nancy Rubin Stuart, author of Defiant Brides, The Muse of the Revolution, and more, will give us an expanded look into Ben Franklin's world through the eyes of the women who influenced it as told in her new book Poor Richard's Women. Books will be available for purchase.
Thursday, 13 October, 7:00 P.M.
Lexington Depot
Past the Cemetery Gate with the Gravestone Girls
The Gravestone Girls, led by Brenda Sullivan, are experts in gravestone art and history, tapping into our historic graveyards as an important tool to learn about the past. Join us for a look at how they can assist genealogists and historians in "Past the Cemetery Gate", where we learn to 'read' the cemetery for clues and information. Using both direct observation and deductive reasoning from objects such as the writing, art, geology and the cemetery landscape, much new insight can be revealed. That new insight can answer questions, create new inquiries and open doors for further detective work. Many use the cemetery as a cursory resource for learning, genealogy or entertainment, some haven't tapped it at all. This program will get guests looking at these spaces, both old and new, as a valuable resource for their data collection activities!
This lecture is part of October programming that also includes tours of the town's old burying-ground twice a day every Saturday.
The Depot opens for these events with refreshments at 6:30 P.M. They are free, but advance registration is requested and sometimes required. Visit the
Lexington Historical Society's events pages
to see all the offerings.