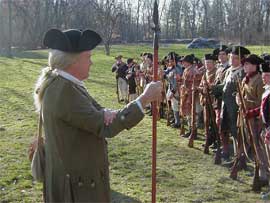 At Historical Nerdery, Alexander Cain
shared some findings
on the question of how often Massachusetts
militiamen
drilled in the charged months leading up to the outbreak of war.
Provincial
law
already required most men aged sixteen to sixty to drill with militia units four times a year. But with
royal troops
in Boston, Patriots saw a need to increase their preparedness—to demonstrate their determination to resist in order to make the government back down in the best case, to fight those redcoats in the worst.
Cain wrote:
Following the October 1774 orders of the Massachusetts Provincial Congress, provincial towns scrambled to put themselves onto a wartime footing. As part of the effort, many militia and minute companies passed resolutions or entered into covenants clearly outlining the expectations of military service. . . .

Amesbury resolved that its minute men would engage in "exercising four hours in a fortnight." Two weeks later, the town modified its order and instructed its minute men to "[exercise] four hours in a week." The residents of Boxford voted on March 14, 1775, "that the minute-men shall train one-half day in a week, for four weeks after this week is ended."
Note that towns didn't follow uniform standards on how much their minute companies would train. Because the Provincial Congress was a creation of the towns, without strict constitutional authority, it could
recommend
that men devote more time to military training, but it didn't have the authority to
require
that.
Each town could choose whether to form a minute company, what training schedule its militia companies would follow, and how men would be paid for their time—or if they were to be paid at all. As I
wrote back here
,
Westborough
's
town meeting
debated at least twice whether to pay the minute men more than other militiamen and decided not to. Furthermore, as volunteers the men themselves had a lot of say in how much time they put in.
In Haverhill,
Cain has noted
, the meeting first decided its minute men should "be duly disciplined in Squads three half days in a Week, three hours in each half day." (Did the reference to "squads" mean only parts of the whole company?) That schedule was replaced a week later with one requiring a full day of training once a week.
Cain also shared the transcription of a document from Haverhill prepared by Sgt. Mitchel Whittier, listing the men who belonged to the minute company and how often each had come to drills in March and April 1775.
The number of days men attended ranged from six down to one—or, if a horizontal line didn't mean "ditto," none. Only one of four sergeants and one of three corporals ("Coprel") came on six days. Neither Capt. James Sawyer nor his two lieutenants showed up for all six drills. (Or perhaps there were more than six drills, and
nobody
showed up for all of them.)
The fact that so few men attended every drill strongly suggests that the community didn't expect perfect attendance. As neighbors, they understood that illness, family responsibilities, bad weather, the farming workload, or other factors might keep a man from every training day. Nonetheless, the prevailing goal in rural Massachusetts in the early months of 1775 was to get more prepared for war.