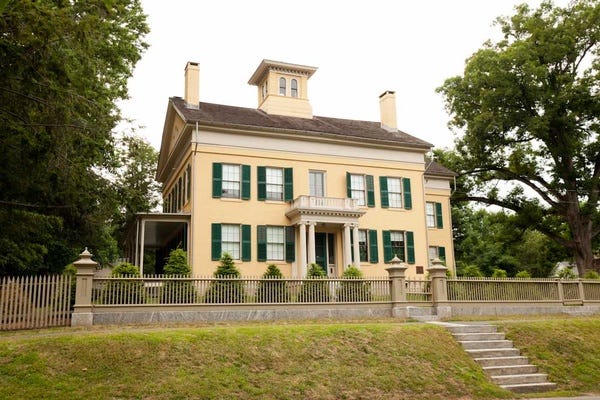 Earlier this summer
, I delved into the question of the
child
baptized with the name of Independence in central
Connecticut
in July 1776.
Before finding little
Independence Booth
, I came across another Connecticut baby given that name—but
after
the date of the newspaper article (highlighted by Emily Sneff) that prompted the investigation.
Emory and Mary Pease of Somers, Connecticut, had a baby girl on 27 Aug 1776 whom they named Independence. (I have yet to find a boy christened Independence that year.)
Independence Pease grew up to marry David Mack, Jr., of Middlefield, Massachusetts, in 1803. There were other Peases in Middlefield, so the couple may have met while Independence was visiting relatives. The Mack family was prominent, with David, Sr., helping to found the town and David, Jr., opening its first store.
In May 1804, Independence Mack gave birth to a son, named David after his father and grandfather. As an adult he went to
Yale College
, worked in the
law
, became a
teacher
and
anti-slavery
activist, spent time in the utopian community of the Northampton Association, and finally founded the
Belmont Public Library
.
David and Independence Mack's daughter Julia, born in 1806, grew up to marry a minister. Another boy, Lyman, came in 1807, but died ten years later.
By then Independence (Pease) Mack had died, too—on 13 Apr 1809, at the age of thirty-two. At the beginning of that year another, probably related Middlefield couple, Amos and Betsey Mack, had a little girl whom they named Independence, so the name carried on.
The widower David Mack remarried in 1812 and had three more children with his second wife. He served as
town clerk
and in other roles, and gained the title of general from his
militia
rank during the War of 1812. He was elected to the
Massachusetts General Court
. The second Mrs. Mack died in 1842, and he married a minister's widow in 1844.
By then David Mack had left Middlefield to live in
Amherst
. He became prominent there, too, owning a general store and later a hat factory, and holding political and church offices.
In 1833, as he moved to Amherst, David Mack bought a mansion with the understanding that the lawyer Edward Dickinson and his growing family would live in the eastern half.
The Dickinson family of Amherst, you say? Yes, those Dickinsons. In 1830, three years before David Mack bought the property, Emily Dickinson was born there. Her family moved out to a house of their own in 1840.
On 23 Sept 1851 Emily Dickinson wrote to her brother Austin about their previous dwelling:
I am glad we dont come home as we used, to this old castle. I could fancy that skeleton cats ever caught spectre rats in dim old nooks and corners, and when I hear the query concerning the pilgrim fathers – and imperturbable Echo merely answers where, it becomes a satisfaction to know that they are there, sitting stark and stiff in Deacon Mack's mouldering arm chairs.
David Mack died in 1854. The Dickinsons repurchased the mansion and moved back in. That was where Emily Dickinson lived while writing most of her poetry, and today it's the
Homestead at the Emily Dickinson Museum
(shown above).