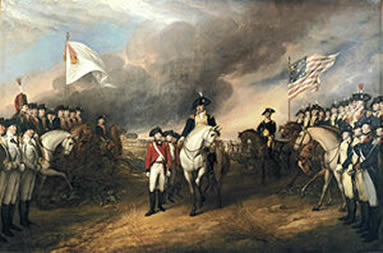 America's History, L.L.C., is sponsoring its second annual Conference on the American Revolution in Williamsburg, Virginia, on 22-24 March. Although there are academics on the list of speakers, this conference is not designed for academic scholars and job-seekers but for independent researchers and history buffs.

The scheduled program is:

As you see, there's an emphasis on military commanders this year rather than, say, politics, battles or other events, ordinary soldiers, social movements, technology, &c.
There will also be two panel discussions: "The Best and Worst Military Commanders of the Revolutionary War" and "A Revolutionary War Bookshelf: What You Should Own and What Books Will Be Published Soon."
The conference package costs $225 and includes lunch, two breakfasts, and refreshment breaks. There are rooms available at the Williamsburg Hospitality House, which I think is also the site of the sessions. On the Friday afternoon before the conference begins, there's an optional bus tour of Petersburg and other sites led by William Welsch of the local American Revolution Round Table; that costs $95 extra. I hadn't thought seriously about going to Virginia next month, but two feet of snow has a way of making me reconsider.
America's History offers a
range of other tours and events this year
, including sessions on "Religion, Rebellion, and the Founding Fathers" in Pennsylvania with John Fea; "Defending the Highlands" in Newburgh, New York, with Bill Welsch and Bruce Venter; "Braddock's Campaign to Fort Duquesne" in Pennsylvania with Doug Cubbison; and "Burgoyne's Campaign of 1777" in conjunction with the 10th annual American Revolution Seminar at
Fort Ticonderoga
.